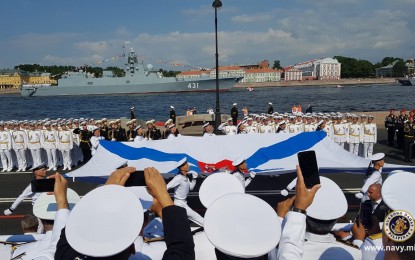 MANILA -- For the first time in its history, a Filipino warship, the BRP Davao Del Sur (LD-602), participated in the Russian Navy Day celebrations in Vladisvostok, Russia on Sunday.
Lt. Randy Garbo, Naval Task Group 80.5 public affairs officer, said Filipino sailors and marines also manned the rails of the strategic sealift vessel to render honors to the passing ships of the Russian Pacific Fleet led by its head, Admiral Sergei Avakyants.
He added that the BRP Davao Del Sur, led by Commander Homer Gonzales, was in a fleet review formation along with other participating naval ships. The naval parade is considered as among the highlights of the Russian Navy Day activities.
As this develops, 45 members of Naval Task Group 80.5 headed by Captain Richard Gonzaga, together with the Vietnamese contingent, witnessed the event from the nearby waterfront along with ranking military and civilian spectators.
Navy Day is a national holiday in Russia held annually to honor the sailors in units of the Russian Navy.
Philippine Navy (PN) flag-officer-in-command, Vice Admiral Robert Empedrad and his party, witnessed the main Russian Navy Day event in St. Petersburg.
"The PN's active participation in this activity conveys the Command's commitment to maintaining good diplomatic relations, rapport and cooperation in a regional maritime environment. It also provides our personnel and students onboard with hands-on training, competence and knowledge on naval customs and traditions," Garbo said.
The ship and the 300-man contingent aboard left Pier 13, Manila South Harbor last July 15.
It docked at Pier 33 of the Russian Navy Pacific Fleet headquarters in Vladivostok on Saturday. (PNA)