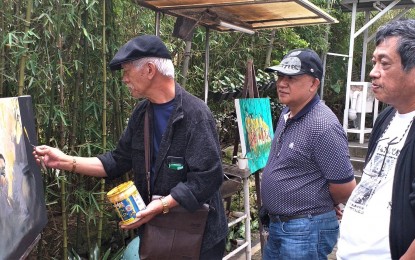 BAGUIO CITY -- Sixty-year-old architect Fredi Agunoy finds more time to pursue art, which means frequent exhibits for the group he practically founded, the Salonpas Group of Artists.
"I now have more time to pursue my arts," Agunoy told the Philippine News Agency (PNA), during another session with fellow Salonpas artists at Fred's Apartment and Art gallery located in Barangay Greenwater here.
Agunoy just arrived from Dingalan, Aurora where his farm had been converted to an artist village. "That is my other group, here (Baguio) it is Salonpas," he said.
His workload as an architect had gradually become lesser with his son, Alfie, taking most of it, especially after he suffered a mild stroke several years back.
In this city, Agunoy does painting with noted Ibaloy artist Roland Bay-an, Salvador Cabrera and new recruit Mars Calub, an architect teaching at the Saint Louis University.
The night before their meet-up, Agunoy sent a message to the other artists, "Pinta tayo (Let's paint)".
Over coffee breaks, they would just let their brush do the talking -- Bay-an, with his typical Ibaloy women of old, a paean of sorts to half of his root (his father is Chinese); Cabrera with his mother and child, a patented family favorite made famous by his uncle Benedicto Cabrera, or BenCab the national artist, while Calub still has to find his expression, just barely a year since joining the group.
In his mid-fifties, Calub was a Bay-an fan who would stick around while the latter would paint at the "Pasa-kalye" chapter house at Diego Silang Street in the city central. He would usually cough up a few thousand pesos, a bargain, upon seeing a completed Bay-an work.
The works of these artists would usually end up in an exhibit at the same place, although Bay-an and Cabrera's would normally have their works bought after posting it on social media.
Agunoy was taking his time. Seated when this writer arrived, his work was half complete as "inspiration won't set in."
"There are really times when it is difficult to paint or the words elude you," Agunoy said.
After his bout with stroke, Agunoy needed to slow down with work, which gave him the chance to continue with his art.
Agunoy was into art the past 10 years, painting and even sculpting.
"I took up sculpture not knowing that I can do it. I got a blow torch and off I went to create something," he said in the vernacular.
A man in a big bike soon took form, or a chess set made of plumbing materials like pipe and faucet. Both are on display at Albergo Hotel, where the Salonpas group has set up a studio/gallery for their use.
Agunoy also ventured into epoxy art, but stopped after his stroke. Soon he made painting a "full time" art expression.
"I get bored easily so I have two or three canvas ready at the same time as I shift from one work to another."
But he is beyond painting this day, since he loves to make rhymes too.
"Pintula" was an old hobby for Agunoy which he greatly enjoys as an architect student at Araullo University in his hometown in Cabanatuan, Nueva Ecija.
"It would usually be something funny and a comic-like painting to accompany the rhyme," he said.
Agunoy went to college without paying for tuition, being a member of the school paper where he was the cartoonist.
"I was first a cartoonist before becoming an architect (an art in itself), a painter or a sculptor. It gave me my education," he said.
"You can see it in my work, my figures are cartoonish," he said.
As a kid in Cabanatuan, Agunoy grew up loving to sketch. Their family was into a bakery business as well as into renting "komiks", which was at its golden years at that time.
He said that he usually would man the comic stall and spent his time copying the works of Mars Ravelo. He made use of discarded cement papers as canvas to hone his talent that was put into use while in school as a cartoonist for the school organ.
Agunoy said that he has about a hundred "pintula" while in college, and now, being semi-retired could get his full attention.
"I will be painting and writing verses at the same time. It is what I really love to do," he added.
Some of his pintula works are on exhibit at the "Emerging Figures" at the Fred's Gallery, along with the works of Bay-an, Cabrera, Calub, retired police general Camilo Santiago and Carlos Oseo. (PNA)