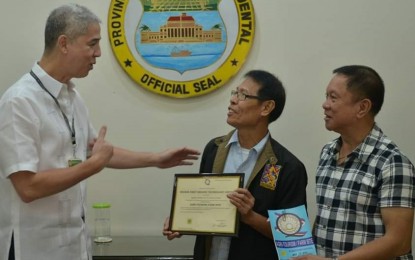 BACOLOD CITY -- The provincial government-run Negros First Organic Technology Center (NFOTEC) in Bago City is the latest and the 15th farm tourism site in Negros Occidental accredited by the Department of Tourism (DOT) in Western Visayas.
Provincial Supervising Tourism Operations Officer Cristine Mansinares said on Monday that with the accreditation, the NFOTEC can accommodate not only those who want to learn, but also those who want to unwind or be entertained.
"The farm is not only an area for production, it also provides relaxation to visitors through various tourism-related activities," she said.
DOT-6 Regional Administrative Officer Artemio Ticar, designated tourism area development head for Negros Occidental, presented the DOT accreditation certificate to Governor Eugenio Jose Lacson at the Provincial Capitol last Friday, in the presence of Mansinares and Provincial Agriculturist Japhet Masculino.
The accreditation, valid until July 2021, is pursuant to the provisions of Republic Act 9593, or the Tourism Act of 2009.
Masculino said the NFOTEC met the requirements and standards set by the DOT for an agriculture or farm tourism site.
The accreditation will allow the inclusion of the organic center in the programs of the DOT, particularly in promotion, he added.
"It can now cater to tourists who would like to visit and learn the technology and practices there," Masculino added.
The PHP3-million facility, which opened in January last year, is situated near the Negros First Rice Processing Center in Barangay Tabunan.
The 14 other farm tourism sites in Negros Occidental are May's Organic Garden Restaurant and Twenty Six Herb Garden, both in Bacolod City; Peñalosa Farms Inc. in Victorias City; Fresh Start Organic Inc., Silay City; the Nature's Village, JKN Farm, Guerrero's Farm, Melba's Farm, Owataks Herbs Farm, and Shalom Orchard Grove, all in Talisay City; Rapha Valley Place of Wellness, Don Salvador Benedicto; RMD Agri-Tourism Industries and Training Center Inc. and BeeWell Farmstead, also in Bago City; and PeacePond in Binalbagan.
Based on DOT-6 records, there are 30 accredited farm tourism sites in Western Visayas, and most of these are in Negros Occidental. (PNA)