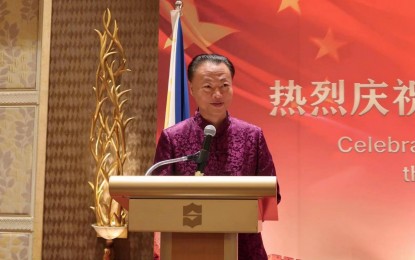 MANILA -- The Chinese government wants to finish the Code of Conduct on the South China Sea (COC) as early as possible while the Philippines is sitting as the country coordinator to the China-Association of Southeast Asian Nations (Asean) dialogue until 2021, China's top diplomat to Manila said Monday.
After more than a decade since the two parties agreed to establish the COC, it was only in 2017 that Asean and China adopted the COC framework.
Once the 10-member bloc and Beijing concluded the COC negotiations and arrive at a consensus on the edict's content, the document will serve as a binding guideline for parties in the contested waters.
READ: PRRD disappointed over delay in ASEAN Code of Conduct
At present, Chinese Ambassador Zhao Jianhua said both parties are "working very hard together" to formulate the COC and maintained the deadline set for its conclusion remains within three years.
"We would like to finalize the COC while the Philippines is the country coordinator of China-Asean relations," Zhao said Monday during the reception for the 92nd Founding Anniversary of the People's Liberation Army.
For the meantime, he noted that China remains "faithful" in implementing the non-binding 2002 Declaration of the Code of Conduct in the South China Sea.
'Peaceful freedom of navigation'
Zhao also underscored that China is the last country to seek the disruption of the freedom of navigation in the South China Sea.
"People are concerned about the freedom of navigation and freedom of overflight. Among all the countries, China consented most because nearly 75 percent of food export and import from China or to China is going through the South China Sea. Nearly 80 percent of oil and gas were imported from other places in the world, is going through South China Sea," he said.
"It goes without saying if South China Sea's freedom of navigation is disrupted or even blocked by someone, we don't need too much imagination to conclude that China is going to be somewhat bad," he added, as he asked external parties in ensuring the peaceful conduct of the said activity in the strategic waters.
"So we would like to work not only with the Philippines, with other Asean countries, also with other powers outside this region, it is in our common interest to make sure that South China Sea continue to enjoy relative peace and stability and with freedom of navigation and overflight unchanged and uninterrupted. Particularly for the commercial vessels and for their oil tankers," he said. (PNA)