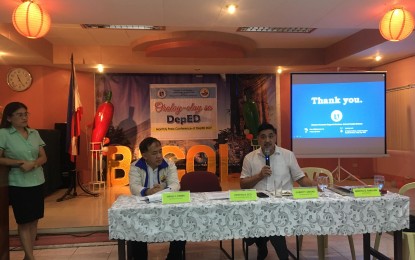 LEGAZPI CITY -- The Department of Education (DepEd) regional office here has started implementing the Preventive Alert System in Schools (PASS) to easily detect possible dengue cases in learning institutions across Bicol.
Regional Director Gilbert Sadsad of DepEd-Bicol, in a press conference early this week, said it is necessary to strengthen the implementation of an extensive campaign to address the increasing number of dengue cases in the region's six provinces.
"PASS is one strategy that involves cooperation between public schools, parent-teacher associations, local government and health centers. It is a systematic relay of information on a child's or teacher's state of health to proper medical authorities and or agencies in the locality," Sadsad said.
Under PASS, learners will observe the well-being of their own classmates and if someone among them is not feeling well or has colds and cough and is feverish, the sick learner will be reported to the teacher for validation.
Early morning health inspection shall be conducted routinely by the teacher to detect the presence of fever and other signs and symptoms of infection. The teacher shall keenly observe the health status of each learner in the classroom. If she/he finds out that a child is sick, the case will be reported immediately to the principal.
The principal shall notify the family/guardian of the child's sickness. The feverish student shall be immediately referred to the school physician for evaluation.
The illness of the student, teacher, or other school employees should be closely followed up by health personnel.
Sadsad added that school principals are expected to take the lead in operationalizing the PASS and to relay relevant information to the schools' division superintendent and such information be likewise relayed to the Office of the Education Support Service Division.
Dr. Israel Parra, DepEd-Bicol medical officer, reminded his counterparts to intensely monitor the increasing number of cases in schools and do all possible preventive and control measures including the "4S" strategy (Search and destroy, Secure self-protection, Seek early consultation and Support fogging or misting during impending outbreak.)
"It is important to keep all the learners well-informed on how to protect themselves from dengue," he added.
Parra also directed all school divisions in the region to submit a report of learners with dengue in all public schools to closely monitor the situation.
Based on the data of the Department of Health in Bicol, dengue incidence in the region has reached an alarming level with a total of 3,631 cases and 37 deaths from January 1 to July 27 this year.
Camarines Sur had the highest number of cases with 1,433; followed by Albay with 679; Sorsogon, 653; Catanduanes, 485; Masbate, 242; Camarines Norte, 135; and others (visitors), four cases. (PNA)