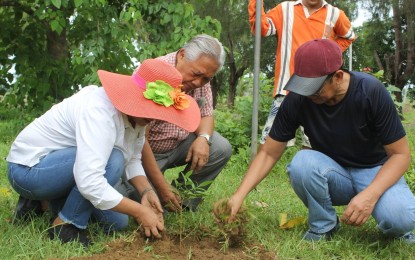 BATAC CITY -- Inspired by the successful launching of a tree wall project (TWP) in the main campus of the Mariano Marcos State University (MMSU) in this city last year, the state-run university launched its second TWP on Thursday (August 1) to attain a vibrant and nurturing environment.
Dr. Shirley C. Agrupis said the second TWP aims to bring back to life the arid areas surrounding the MMSU campus and to have a mini forest and orchard which that will also help sustain the university's agro-forestry projects.
Tree species used in the planting activity were seedlings of almaciga (Agathis philippensis) and grafted pili (Canarium ovatum) which were donated by Apayao Vice Governor Remy Albano and former MMSU president Dr. Santiago R. Obien, respectively; and palosapis (Shorea palosapis), a high-value forest tree species propagated at the MMSU nursery.
"This is not just another tree planting activity, but is a part of my agenda to establish a robust environment," Agrupis said, as she challenged those who joined in the activity to nurture the planted seedlings "as a living symbol of our dreams and collective commitment to nurture this university".
Meanwhile, MMSU forester Dr. Roseller Ayson said the second TWP of the university is part of the expanded national greening program of the government particularly the Department of Environment and Natural Resources (DENR).
In consonance with the activity's theme "Growing Together," Ayson said this development effort should be geared towards the survival of the seedlings "because growing the seedlings to become robust trees is quite more difficult than just planting them".
"That's why growing trees demand great sacrifices because seedlings need tender loving care such as, but not limited to, giving them organic fertilizers, and protecting them from weeds, pest, animals, calamities, and illegal activities, among others," Ayson said.
Established at the vicinity of the university's main library, the TWP is composed of a one-layer species of trees planted in organic growing media, including organic substrate materials.
The areas also have an established water impounding dikes that serve as sources of water that will meet the requirements of a living orchard or forest.
The benefits of TWP are from the plants themselves, which naturally absorb carbon dioxide and other pollutants, and then emit fresh and clean oxygen.
The trees also help dampen noise and provide benefits to people and other animals such as birds. (PNA)