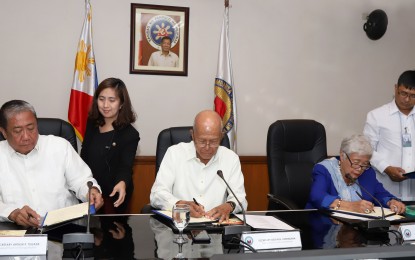 MANILA -- Department of National Defense Secretary Delfin Lorenzana, together with heads of other agencies, formally signed the Implementing Rules and Regulation of Republic Act 9049 - also known as the "An Act Granting Monthly Gratuity and Privileges to an Awardee of the Medal of Valor (MOV) ", during short ceremonies at DND headquarters in Camp Aguinaldo, Quezon City last July 31.
The DND chief was joined by Education Secretary Leonor Magtolis-Briones, Health Assistant Secretary Elmer G. Punzalan – who represented Health Secretary Francisco T. Duque III, Transportation Secretary Arthur P. Tugade, Environment and Natural Resources Secretary Roy A. Cimatu, Agrarian Reform Secretary John R. Castriciones, Interior and Local Government Secretary Eduardo M. Año, Commission on Higher Education Chairperson J. Prospero E. de Vera III, Jr., Architect Susana Nonato – who represented National Housing General Manager Marcelino P. Escalada, Jr., Armed Forces of the Philippines Chief-of-Staff Gen Benjamin R Madrigal Jr, and Civil Service Commission Chairperson Alicia dela Rosa-Bala.
"I am very delighted that finally, we have signed today the IRR of Republic Act 9049, a law that intends to upgrade the support of the government to our Medal of Valor awardees and their families and to perpetuate their heroism," Lorenzana said in a statement forwarded Thursday.
The Medal of Valor is the highest military honor awarded for a conspicuous deed of personal bravery or self-sacrifice above and beyond the call of duty that distinguishes the recipient from his comrades.
Republic Act 9040, which was passed in 2001, mandates the provision for adequate social services and financial reward or a lifetime monthly gratuity to Medal of Valor awardees and dependents of deceased MOV awardees.
On Dec. 22, 2016, President Rodrigo Duterte signed a memorandum increasing the monthly gratuity of MOV awardees from PHP20,000 to PHP75,000.
The IRR features benefits such as: lifetime monthly gratuity; precedence in employment in government agencies; priority in the approval of an awardee's housing application under existing housing programs of the government; priority in the acquisition of public lands; privilege of obtaining loans in an aggregate amount not exceeding P500,000 from government-owned or controlled financial institutions without having to put up any collateral or constitute any pledge or mortgage to secure the payment of the loan; 20 percent discount from various establishments and services; free medical and dental services and consultation in hospital and clinics anywhere in the country; and exemption from the payment of tuition and matriculation fees.
Additionally, Tugade made an announcement that after meeting with Ninoy Aquino International Airport and airline officials, the terminal fees for both domestic and international flights will be waived for MOV awardees and their dependents.
Presently, there are 41 Medal of Valor awardees and their beneficiaries receiving the monthly gratuity benefits, composed of four Medal of Valor Awardees in the active service, 12 retired and 25 deceased.
The monthly gratuity benefits of the deceased Medal of Valor awardees are being released to their identified next of kin: 21 spouses, one sister, one daughter, one father, and one brother. (PNA)