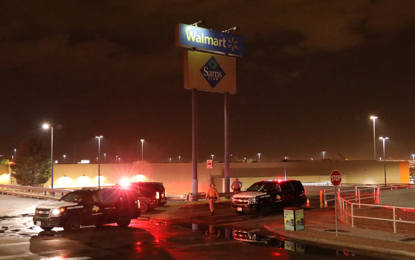 WASHINGTON -- Two mass shootings took place hours apart this weekend in the United States, leaving at least 29 people dead and over 50 injured.
On Sunday morning, Connor Betts, a 24-year-old white male, opened fire in a popular bar district in the city of Dayton in midwest U.S. state of Ohio, killing nine and injuring 27 others before being killed by the police.
Those killed were four women and five men, ranging in age from 22 to 57, including Betts' younger sister Megan Betts. Of the 27 people injured, four remained in serious condition and one in critical condition, authorities said.
The gunman was carrying a .223-caliber rifle with additional high-capacity magazines and was wearing a mask or covering over his face, Dayton Mayor Nan Whaley said at a press conference.
"If the Dayton police had not gotten to the shooter in under a minute, hundreds of people in the Oregon District would be dead today," Whaley said.
Dayton Assistant Police Chief Matt Carper said Betts was from Bellbrook, a suburb of Dayton, and the motive of the shooting is still under investigation.
Authorities have confirmed that the firearms Betts carried were purchased legally, and there was nothing in the person's history that had raised flags with authorities.
The Dayton carnage was the second mass shooting over the weekend.
Thirteen hours before, on Saturday, a 21-year-old white male opened fire at throngs of shoppers in a Walmart in the border city of El Paso in the U.S. state of Texas, killing at least 20 and injuring 26 others.
Six Mexicans were among the people killed in the shooting spree, while another seven Mexicans were among the injured.
The mall was packed with as many as 3,000 people caused by a busy back-to-school shopping season when the shooting began, authorities said.
The suspect, identified as Patrick Crusius, was taken into custody and is believed to have acted on anti-immigrant sentiment.
"There is a potential nexus to a hate crime," according to El Paso Police Chief Greg Allen, who said the suspect had published a four-page manifesto online that called the attack "a response to the Hispanic invasion of Texas."
While authorities are trying to determine whether Crusius authored the document, they are probing the case as an act of domestic terrorism.
The consecutive shootings underscored the rampant gun violence plaguing the United States. Government inaction and racially charged remarks made by leading political figures are widely blamed for the increasing frequency of mass shootings.
The United States has one of the highest gun-related death tolls in the world due to lax gun control laws. Data from the Gun Violence Archive showed the United States reported 33,155 incidents of gun violence so far in 2019, resulting in 8,770 deaths and 17,420 injuries. (Xinhua)