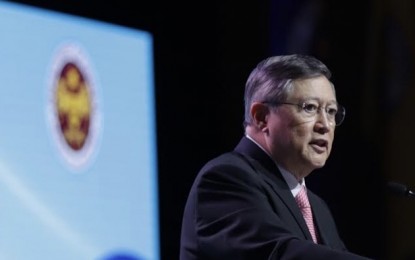 MANILA – Finance Secretary Carlos Dominguez III said that all means will be exhausted to recover government's investment in United Coconut Planters Bank (UCPB), which may be due for privatization.
He said the bank is now a government-owned and controlled corporation (GOCC) based on a Supreme Court (SC) decision since it was acquired using government funds.
He said they are evaluating what to do with the financial institution, which is among the companies bought by former Marcos cronies using taxes collected from coconut farmers in the 1970s and 1980s.
He explained that the government supported UCPB for many years and has sunk in it at least PHP42 billion that, he said, will be recovered through several modes "other than privatization."
"I'm still trying to look at all the cost of money involved. It's probably P100 billion already," he said.
Dominguez said he has asked the Philippine Deposit Insurance Corporation (PDIC) to calculate the amount that the government has spent so far to help UCPB but has also asked his staff to make comparisons.
"As chief financing officer of the country I'd like to get back everything that we have there. I think that's the goal. Now how we do it is it through privatization or other means," he said but pointed out that "I'm pretty sure that privatizing it is not going to do it."
UCPB was placed in a 10-year rehabilitation plan that started in 2008.
PDIC President Roberto Tan said the agency provided UCPB PHP20 billion worth of loan assistance, namely PHP12 billion worth of capital notes and PHP8 billion of purchase-of-assets without buyback. (PNA)