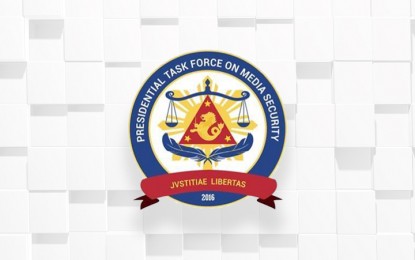 MANILA -- The Presidential Task Force on Media Security (PTFoMS) said investigation on the murder of Kidapawan City broadcaster Eduardo Dizon is proceeding with dispatch.
This after Al P. Calica, Regional Prosecutor for Region 12 (Soccsksargen), immediately assigned City Prosecutor Mariam April Linsangan of Cotabato City to take charge of the preliminary investigation shortly after the filing of the complaint before the Kidapawan City Prosecution Office.
The investigation of Dizon murder case was originally assigned to the Kidapawan City Prosecution Office headed by City Prosecutor Melvin Lamata.
Lamata and Associate City Prosecutor Eugene Seron, however, have been designated as prosecutors of the AO1 (Administrative Order 1) Task Force Dizon during the case conference led by PTFoMS Executive Director, Undersecretary Joel Sy Egco on July 13, 2019.
Under the AO1 operational guidelines, the AO1 prosecutors tasked to lead special investigation teams should not be handling the preliminary investigations of the AO1 cases to dispel any allegation of bias or partiality.
Lamata immediately forwarded the records to the Regional Prosecution Office upon the filing of the complaint for murder against four suspects.
"It is but proper that we strictly follow the established protocol for these cases," PTFoMS co-chairman and Justice Secretary Menardo Guevarra said.
"We do believe in the adage that justice delayed is justice denied, but we also do not want any legal technicalities to jeopardize the immediate resolution of the Ed Dizon murder case. We will not take shortcuts," he added.
For his part, PTFoMS co-chair and Communications Secretary Martin Andanar assured the families of the victims that the PTFoMS is working day and night to expedite the resolutions of all the cases of media violence.
"It is normal for the PTFoMS Secretariat Staff to work on weekends and past midnight on weekdays just to follow up investigators if the need arises," Andanar said.
Egco expressed his appreciation to the most active member agencies of the PTFoMS -- the Philippine National Police and the Prosecution Service of the Department of Justice for the swift action they did on the media violence cases.
"If not for their relentless and unswerving resolve to bring justice to the family of Ed Dizon, the investigation would have dragged on for weeks or even months without a complaint being filed," Egco said.
He said the Task Force shall continue to monitor and provide updates on the case.
Last week, the PTFoMS announced that murder charges have been filed against suspects in the killing of Dizon, a Brigada FM anchor.
Dizon was reportedly driving home to Tejada subdivision in Makilala town after his radio program 'Tira Brigada', when he was shot dead by gunmen on a motorcycle around 10:30 p.m. on July 10. He succumbed to five gunshot wounds on his body. (PR)