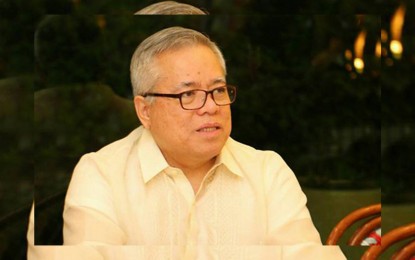 MANILA -- The Department of Trade and Industry (DTI) is seeking to double, or to raise to 50 percent, the contribution of electronic commerce to the country's economy by 2022, as more micro, small and medium enterprises (MSMEs) and internet users engage in e-commerce.
DTI Secretary Ramon Lopez cited other neighboring countries which are already doing all payments and even small transactions in the mobile phones.
"They are just our neighboring countries. In other words, jumping into the system is just around the corner. All it takes is everyone to download an app or switch to digital transactions," he said in a press briefing Tuesday on the sidelines of dialogue on E-Commerce Philippine Roadmap 2022.
Lopez also sees 100,000 MSMEs engaging in e-commerce in the next three years, noting that over 30,000 sari-sari stores (community stores) in the barangay level have capabilities for e-wallet loading and transferring of funds.
"We can be more optimistic on the target. The technology is already there, the penetration of mobile phones is there, internet penetration, Facebook," he added.
DTI Undersecretary Rafaelita Aldaba noted the services sector currently contributes half to the country's total gross domestic product (GDP), and a bulk of which is shared by wholesale and retail.
Aldaba said the figure does not include Grab transport, GrabFood, tickets booked online, and hospitality businesses listed in Airbnb, among others.
Prof. Ronilo Balbieran, who is tapped to assist the E-Commerce Office of the DTI to produce the roadmap, said the e-commerce is expected to grow a minimum 25 to 30 percent per year.
"We are very excited given that technology can always multiply output by a factor of between five to 10 times with the same resources," he added.
Meanwhile, the Philippine E-Commerce 2020-2022 is well on its way under the E-Commerce Office.
In 2016, the DTI launched the E-Commerce Roadmap 2016-2020, a five-year initiative to spur E-commerce growth in the country. (PNA)