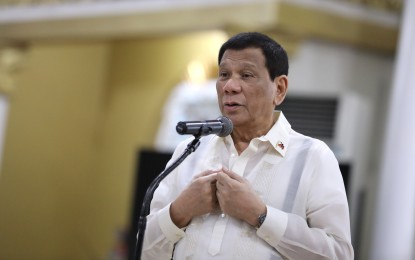 MANILA – President Rodrigo Duterte on Tuesday said Chinese Vice President Wang Qishan will be accompanying him to watch a Gilas Pilipinas game in the 2019 FIBA World Cup in China.
"Samahan ako ng Vice President mismo ng China doon sa basketball. Biro mo? Totoo 'yan (I will be accompanied by the Vice President of China himself to watch the basketball game. That's true). It's a break in protocol, siya mismo (he himself)," Duterte said in his speech during the oath-taking rites of newly-elected officers of the Federation of Filipino-Chinese Chambers of Commerce and Industry, Inc. (FFCCCII) on Tuesday night.
Based on World Cup first round schedule, Gilas Pilipinas will battle Italy on Aug. 31, Serbia on Sept. 2 and Angola on Sept. 4. The games will be held at the International Sports and Cultural Arena in Foshan City.
Duterte did not mention which game he and the Chinese Vice President will watch but joked about the Philippine team losing against Italy and having a shot at beating Angola.
"Wala, talo tayo, walang laban. Sa China na lang tayo magpusta. We will lose sa Italy. Ang lalaki kaya ng mga gagong 'yan (We will lose, we don't have a chance. Let's just bet on China. We will lose to Italy. They are too big)," Duterte said.
Duterte said he will also discuss the arbitral ruling with Chinese President Xi Jinping when he visits China for the fifth time by the end of August this year.
"Yung (The) arbitral ruling, pag-usapan natin 'yan (let's talk about that). That's why I'm going to China. I'm not going to tell you the agenda. I'm going to China to talk. Did I not tell you before that before my term ends, we will be talking about China Sea?" Duterte said.
"I'm going there because there are now some…you know, mga sparkles [sic] which need to be addressed immediately. Ayaw ko ng away pati…may basketball doon ngayon e (I don't want a fight…and also, there's a basketball game there now). World. FIBA," he added.
Earlier, Presidential Spokesperson Salvador Panelo said Duterte is interested to discuss the 60-40 sharing arrangement on the proposed joint exploration for oil and gas in the West Philippine Sea in his meeting with Chinese President Xi Jinping.
Duterte will also raise the June 9 Recto Bank (Reed Bank) maritime incident where a Chinese vessel allegedly rammed and abandoned a Philippine fishing boat at sea, Panelo said.
'Soledad'
Duterte, meanwhile, bared that he will also be visiting Fujian University to attend the inauguration of a building there built in honor of his late mother, Soledad.
"I'm proceeding to Fujian because they sa University of Fujian they built a building in honor of my mother. Tanungin mo yung taga Davao. Teacher man nila ang nanay ko 1951 (Ask the ones from Davao. My mother was a teacher since 1951)," Duterte said.
He pointed out that his mother was one of the pioneering teachers who encouraged foreign students to study in China.
"When that school was organized, one of the few pioneering teachers nanay ko. Kaya may building siya doon, Soledad (was my mother. That's why she has a building there, Soledad)," Duterte said.
"For yung mga foreign students na niyayaya niya (it's for foreign students she invited) to study in China. So I'm going there to inaugurate that," he added.
Duterte, meanwhile, took a jab at his critics for criticizing his handling of the West Philippine Sea issue noting that the previous administration failed to stop China from building artificial islands in the disputed waters.
He also received negative feedback for entering into a 2016 fishing verbal agreement with Xi which allowed Chinese to fish within the Philippines' 200-nautical mile exclusive economic zone (EEZ) if China allowed Filipinos to fish in the Panatag (Scarborough) Shoal.
"Wala man lang pumunta doon para sabihin (Nobody even went there to say), 'You are not supposed to build artificial islands in international water.' That was a clear violation…ba't hindi nila pinigilan (Why didn't they stop them)?," Duterte said.
"Ngayong nandiyan na, ready na to fight to death, ako na ang tinutulak (Now it's there, they are ready to fight to death, and I'm the one they're pushing to do it). Carpio and company, 'Duterte, you go there and protect our marine life. Paano ko gawin 'yan? Paano ko sabihin 'wag kayo mag fish dito', sabi man nila sila ang may-ari nito (How am I going to do that? How am I going to say 'don't fish there' if they say they own it)?" he said. (PNA)