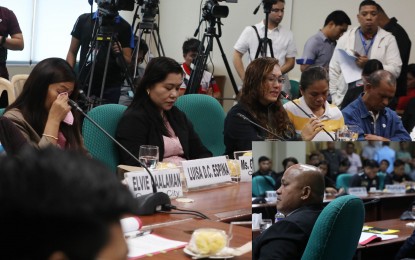 MANILA -- A ranking official of the National Task Force to End Local Communist Armed Conflict (NTF ELCAC) on Wednesday expressed disappointment over the absence of Kabataan Party-list Rep. Sarah Elago at a Senate hearing convened to look into the cases of minors who reportedly went missing shortly after being allegedly recruited by militant group Anakbayan.
"We were disappointed with the absence of Rep. Sarah Elago during the Senate hearing called by Senator (Ronald) dela Rosa. We wanted her to explain how her organization, as well as the other Kamatayan (Makabayan) bloc organizations mentioned by the crying parents like Bayan Muna, are being patriotic (Makabayan) by causing the disappearance of their children, who are supposed to be in school," Armed Forces of the Philippines (AFP) Deputy Chief-of-Staff for Civil-Military Operations, Major Gen. Antonio Parlade, Jr., said in a statement sent to the Philippine News Agency Wednesday.
Prior to their disappearance, Parlade said parents of the missing minors claimed that their children became liars and disrespectful.
This misbehavior of the children continued until these minors finally left home for good to join the underground movement.
"Many of these children have returned in cadaver bags, after joining the NPA (New People's Army) and fighting the government. Many have been exploited by this fake sense of nationalism, pushed to the hills and asked to sacrifice for the masses, while their representatives are enjoying the perks of their offices," Parlade said.
He added that Elago's presence in the hearing is very important so she can explain what she can do to help prevent more exploitation of these minors who are supposed to be studying in school.
"We wanted to ask what else can be legislated to protect our youth and children in schools and keep them out of harm's way," Parlade added.
He also urged the National Union of Peoples' Lawyer (NUPL) to help the parents of these missing minors.
"What about NUPL? What can we do to fight for the rights of the parents? All of them need legal assistance to seek remedy from those responsible for their radicalization," he added.
"Or is the group, along with NUPL Secretary-General, Atty. Edre Olalia, too busy defending the rights of captured NPA terrorists reportedly responsible for the torture and execution of four police officers in Ayungon town, Negros Oriental last July 18?"
He added that rather than devoting time in appealing to the Supreme Court their petition on the writs of Amparo and habeas data, Parlade enjoined the NUPL help the government fight for the rights of missing children and their parents.
NUPL, he said, can also help file charges even against teachers and school administrators who could be liable for negligence, by virtue of the principle of locus parentis, especially if they are found to be encouraging the kids to join violent rallies themselves, in exchange for better grades.
In loco parentis is a Latin term for "in the place of a parent" that refers to the legal responsibility of a person or organization to take on some of the functions and responsibilities of a parent.
"Time for healing. Give up armed struggle," he said.
On Wednesday, parents of the missing students shared their ordeal in a hearing conducted by the Senate committee on public order and dangerous drugs.
Committee chair and former Philippine National Police chief, Senator Ronaldo "Bato" dela Rosa, recognized the parents' ordeal and expressed dismay on schools and plans to put in place corresponding sanctions for allowing communism to corrupt the students' minds.
The Communist Party of the Philippines and its armed wing, New People's Army, are listed as a terrorist organization by the United States, European Union, United Kingdom, Australia, Canada, New Zealand, and the Philippines. (PNA)