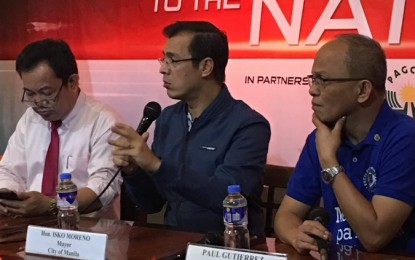 MANILA -- Manila Mayor Francisco "Isko Moreno" Domagoso on Thursday said he plans to convert Manila into a "smart city" to better serve his constituents.
In an ambush interview with the media, Domagoso said he had a brief meeting with the Commercial Section of the United States (US) embassy on the important elements of a "smart city" such as an enhanced flood monitoring and prevention, traffic management, and Manila resident ID issuance.
"Smart city is, how I can make your life easier as a citizen, so, these things like technology, study, infrastructure, human development. Smart in such a way you address every sector of the society, you accept there is a problem and you address it," Domagoso added.
Citing that the US has offered a grant for the design of the "Smart City of Manila", Domagoso said his administration is pushing for the digitalization of the local government and all application and hardware preparations are now being made.
"I was asked what we want to prioritize, sabi ko (I said), once and for all, study Manila geographically with regard to the flooding problem of the city para magkaroon ng (so there could be a) drainage plan, catch basin, everything that will address the flooding in Manila because I told the group of US ambassador, the country is a tropical country and we'll be experiencing lots of rain, within 8 months there will be rain in between," he said.
Stressing that flooded streets have been the perennial problem of the city, Domagoso said he would do everything to put an end to it.
"Nagbabaha kapag bugso ng ulan pero humuhupa rin naman (It floods when it rains but it also subsides). If it will take 20 years, 30 years, 15 years, 10 years to make Manila flood-free, I will go that path," he said.
Domagoso added that his administration is still studying the issuance of Manila resident IDs even though the US embassy has committed help with regard to the ID system's backend or technical support.
"Kailangan ko muna iyan idiskurso sa city council (I need to discuss that [resident ID benefits] first with the city council)," he said. (PNA)