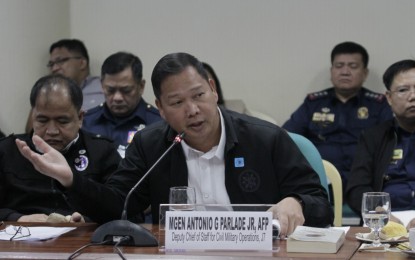 MANILA -- A sloppy excuse.
This was how Major Gen. Antonio Parlade, Jr., of the National Task Force to End Local Communist Armed Conflict (NTF ELCAC), on Thursday described Kabataan Party-list Rep. Sarah Elago's reason for not attending Wednesday's Senate hearing to look into cases of missing minors after being allegedly recruited by militant group Anakbayan.
"That's a sloppy excuse not to be able to attend the Senate hearing on a very important issue about youth activism. Rep. Elago should have enlightened us of their interpretation of 'academic freedom' and "protection of children's rights" in that session, but they chose not to face the parents. There is another hearing scheduled next week and let's see if they have other alibis," Parlade said in a statement sent to the Philippine News Agency.
Elago earlier said she was unable to attend the Senate hearing presided by Sen. Ronald Dela Rosa due to "prior commitments" and "short notice".
"We received the invitation from your honorable office on 05 August 2019, with the hearing being set for Wednesday, 07 August. Unfortunately, we will not be able to attend because of prior commitments which we will not be able to move considering the very short notice," she added.
What suppression of freedom?
Parlade, who is Armed Forces of the Philippines Deputy Chief of Staff for Civil-Military Operations, also scored Elago and her organization for opting to protest on the streets about non-existent issues like press freedom suppression and dictatorship when they were given the opportunity to tell their side of the story at the Senate.
"You talk of suppression of press freedom and dictatorship? Then how is it possible that you can rally and march freely on the streets with your b*lls**t slogans? You are given the opportunity to speak at the floor but you ignore it because you choose to shout on the streets," he added.
Parlade, also slammed militant group Anakbayan for claiming that it knew the history of Filipinos well and stands united with masses, including students, who are suffering from the Duterte Administration's failure to address poverty, joblessness, raise wages, and end contractualization, among other social issues.
"Did you really study the history of the Filipino people like you said in your statement? Then you should know who bombed Plaza Miranda in order to create hatred to the government, entice more people to revolt, and eventually force (former President Ferdinand) Marcos to declare Martial Law. Remember that as you celebrate that infamous August 21 (1971) bombing (of Plaza Miranda) by the CPP, recall how (CPP founder) Jose Maria Sison tagged you as communist front organizations. The same communist party, thru its National United Front Commission (NUFC) under Vic Ladlad and National Youth and Student Bureau (NYSB) ordered the creation of more Anakbayan branches and the creation of Kabataan PL (Party-list) to campaign for Kamatayan (Makabayan) bloc and Neri Colmenares," he added.
'We know what you do in schools'
Parlade also took a swipe at the militants for thinking that the government is not aware of their efforts to operate cells in Metro Manila universities.
"Do you think your government has sloppy intel for not to know about your TARGARYEN operating in MM (Metro Manila) schools in the University Belt? Or your BARTHEON which operates in Taft Ave and Intramuros? Think about that and ask yourselves why you are still out there if there is a state-led silencing," he added.
While stressing that the government is not criminalizing dissent, he reminded militant groups to know the bounds of their actions.
"We don't call you 'irresponsible students'. You are way beyond being irresponsible. In fact, you have crossed the line and indeed, you are committing crime already. The government is not criminalizing dissent. We are trying to promote respect for our laws. When you shout 'ibagsak' or oust an elected president, that is seditious already," he added.
Parlade slammed Anakbayan for claiming that the government, through the Philippine National Police, attempted to create mass hysteria last year through the so-called "Red October Plot" whose goals is to oust the Chief Executive by launching a series of protest actions via 18 Metro Manila universities and colleges.
Earlier, the military claimed that the plot fizzled out because of government efforts to make the threat public.
"So don't raise the issue on 'Red October' because you know that you are criminally liable if you are part of it. You are young. There is still time to reform and abandon your warped sense of service to the masses," he added. (PNA)