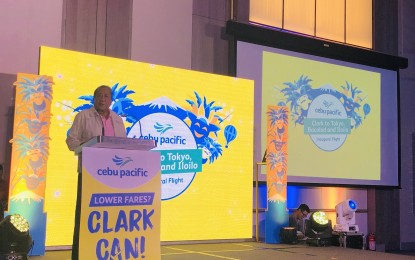 CLARK FREEPORT, Pampanga -- Transportation Secretary Arthur Tugade on Friday announced the takeover of the operations and maintenance (O&M) of the Clark International Airport by the consortium Luzon International Premiere Airport Development Corporation (Lipad) on August 16.
Tugade made the announcement during the launching of the new flights of Cebu Pacific from Clark to Bacolod, Iloilo and Tokyo via Narita, which was held at the Marriot Hotel here.
"By August 16, we will be ready to turn over the operations and maintenance of the Clark Airport to Lipad Corporation," he said.
Lipad, formerly North Luzon Airport Consortium (NLAC), is composed of Changi Airports Philippines Pte. Ltd., Filinvest Development Corporation, JG Summit Holdings Inc., and Philippine Airport Ground Support Solutions Inc.
Tugade said the Clark International Airport Terminal 2 is ready to accommodate up to four million passengers early next year.
"We are ready to open the Terminal 2 of Clark Airport by June at the earliest or July at the latest of next year, and then our expectation of having four million passengers will be increased to 12 million passengers and this is our target," he said.
Clark International Airport Corp. (CIAC) president Jaime Melo, meanwhile, assured a smooth turn over from officials of CIAC, which represents the offices of airport operations, human resources, marketing and finance, legal, information technology, and public relations set up initial turnover plans for the transition to O&M.
On January 22, the Changi-led consortium signed a 25-year concession agreement with the government to develop the commercial assets of and operate and maintain Clark airport's new terminal building expected for operation by 2021.
Melo said O&M consortium will build on the success of the Bases Conversion Development Authority (BCDA) and CIAC, and is committed to the accelerated growth of Clark airport as the premiere international gateway of Central and Northern Luzon to the world.
The Clark International Airport expansion project is the first successful hybrid public-private partnership (PPP) project under the Duterte administration.
Clark currently hosts 628 flights per week --442 domestic flights and 186 international flights, with an average of 90 flights a day and a daily average of 8,871 passengers.
As of August 6, Clark catered to a total of 2,451,676 passengers.
Clark Airport is the first airport in the Philippines to be ISO 9001:2015-certified for its international and domestic passenger facilities. (PNA)