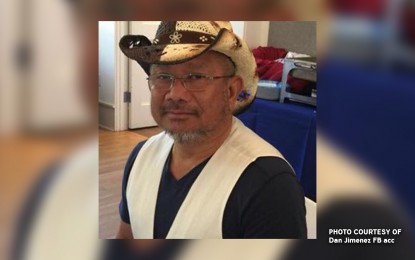 MANILA -- A veteran member of the Philippine Navy and Philippine Military Academy, Dan Jimenez, on Saturday urged House Speaker Alan Peter Cayetano to expel Kabataan Party-list Rep. Sarah Elago from the House for "advocating communist ideology."
In his Facebook post, Jimenez, a navy and military alumnus of batch '77, described Elago as a "traitorous snake in the House".
"It is time for House Speaker Cayetano to prove his loyalty to the Constitution, the country, the people and the flag...Either he stays or the communist Elago," he stressed.
Citing that Elago is a member of the Philippine Congress, Jimenez said "she must protect and defend the Philippine Constitution" but she "continues to advocate the communist ideology and actively recruits the youth to join the outlawed terrorist New People's Army, Communist Party of the Philippines, and National Democratic Front".
Calling on nationalistic congressmen to initiate the expulsion of Elago, Jimenez explained that a sitting member of Congress can be removed by a two-thirds vote of its membership.
"How much longer will the supposed representatives of the people turn a blind eye and be deaf to the cries of parents and families whose children have just vanished only to surface as casualties of the communists' lies and manipulation? How many more deaths will it take before Cayetano and his Congress get rid of the snake within their ranks? Have Congress lost the essence of democracy and their sworn duty to serve and protect the people?" he said.
On Wednesday, Elago did not attend the Senate hearing which sought to look into the cases of minors who reportedly went missing shortly after being allegedly recruited by militant groups including Anakbayan due to "prior commitments" and "short notice".
"We received the invitation from your honorable office on 05 August 2019, with the hearing being set for Wednesday, 07 August. Unfortunately, we will not be able to attend because of prior commitments which we will not be able to move considering the very short notice," she said.
On Thursday, Maj. Gen. Antonio Parlade, Jr., of the National Task Force to End Local Communist Armed Conflict, described Elago's reason as a "sloppy excuse" especially that the hearing is about a "very important issue about youth activism".
"Rep. Elago should have enlightened us of their interpretation of 'academic freedom' and "protection of children's rights" in that session, but they chose not to face the parents. There is another hearing scheduled next week and let's see if they have other alibis," Parlade said in a statement sent to the Philippine News Agency.
Parlade stressed that Elago and her organization opt to protest on the streets about "non-existent issues like press freedom suppression and dictatorship" instead of taking the opportunity to "tell their side of the story" at the Senate.
"You talk of suppression of press freedom and dictatorship? Then, how is it possible that you can rally and march freely on the streets with your b*lls**t slogans? You are given the opportunity to speak at the floor but you ignore it because you choose to shout on the streets," he added.
The CPP-NPA is listed as a terrorist organization by the United States, European Union, United Kingdom, Australia, Canada, New Zealand, and the Philippines. (PNA)