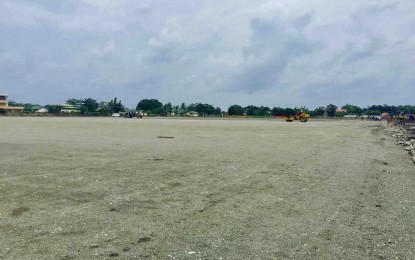 ANTIQUE -- The Department of Transportation (DOTr) has instructed Verzontal Construction to expedite the development project of the Antique airport to enhance its operations.
DOTr Undersecretary for Aviation and Airports Manuel Antonio Tamayo made the directive after he and Civil Aviation Authority of the Philippines (CAAP) Area 2 Cluster Manager Efren Nagrama met with Antique Governor Rhodora Cadiao and former senator and now Deputy House Speaker Loren Legarda during the inspection of the airport on Aug. 3, 2019.
"We have requested the contractor to fast-track the development of the Antique Airport to efficiently serve the region. To do this, we need the augmentation of workers and equipment, and extend the working hours from 8 to 12 hours," Tamayo said.
Tamayo said the airport development project started in December 16, 2016, hoping the construction of a new Passenger Terminal Building (PTB), apron, taxiway, fire station building, power house, administration building, perimeter and security fence, vehicle parking area, and staff house will be completed before June 2020, two months ahead of original completion date of August 2020.
Legarda expressed appreciation for the efforts of the DOTr and CAAP to hasten the project which is expected to boost economic growth in the province.
Upon the request of Legarda, Verzontal Construction and the DOTr will submit the airport's master plan, including the details of the PTB within two weeks.
The Antique lady solon also recommended the installation of solar panels, a vertical garden, rain catchment system, and non-corrosive materials for the airport. Legarda's son, Leandro Leviste, committed to provide the solar panel system free of charge.
Discussions were also made to extend the airport's runway from 1,430 meters to 1,800 meters in order to accommodate jet operations and Legarda has pledged to work on the additional funding of at least PHP150 million for the runway extension.
Likewise, Cadiao has requested to expedite succeeding fund releases for site acquisition, which the DOTr assured.
DOTr Secretary Arthur Tugade commended the joint efforts of all parties and assured the completion of the Antique Airport development project ahead of schedule.
"I am thankful to Deputy Speaker Legarda and Governor Cadiao for accommodating and assisting our team in the development of the Antique Airport even on short notice," Tugade said.
"We will ensure that this airport will be upgraded on or before its target date so that we may deliver to the people of Antique the service and facility that they have long been yearning for," he added.
The Antique airport, the only Principal Class 2 airport in the province, restarted its commercial operations on Dec. 16, 2018. (PR)