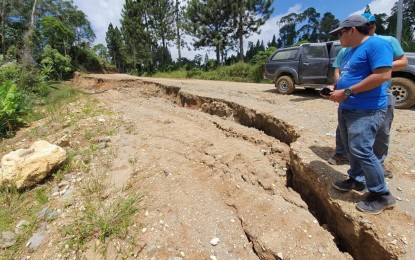 GENERAL SANTOS CITY -- The Mines and Geosciences Bureau (MGB) in Region 12 has recommended the re-routing of roads and immediate relocation of residents in parts of Barangay Ned in Lake Sebu town in South Cotabato due to the presence of ground tension cracks and occurrence of landslides these past weeks.
Ariel Acosta, MGB-12 supervising geologist, said Tuesday they found major tension cracks in at least five sitios in Barangay Ned that could eventually trigger major landslides and other related calamities.
He said the affected areas are portions of sitios Eldolog, Tuburan, Polosubong, Kiantay and Tawan Dagat.
Parts of the affected sitios and road networks leading to these areas have subsided due to the tension cracks and caused landslides, he said.
Acosta said the emergence of the tension cracks, which was initially reported in 2016, was due to the steep slopes and weak underlying lithology.
"Meaning, the materials underneath are already overly saturated by water and since gravity is working, there was downward movement of soil," he said in an interview over local television program Magandang Umaga South Central Mindanao.
Acosta, who was part of a team from MGB-12 and Provincial Disaster Risk Reduction and Management Office (PDRRMO)-South Cotabato that conducted a reassessment of the area last week, said the affected areas experienced "prolonged heavy rains" these past weeks according to residents.
He said such situation mainly caused the over saturation of the soil and led to several landslides.
The earthquakes that affected the area might have aggravated occurrence of landslides in the area, he said.
The MGB and the PDRRMO are currently coordinating with the municipal government and local stakeholders for the relocation of the affected residents.
"There should be immediate relocation of houses and other affected infrastructure to safer areas," Acosta said.
He said they recommended the declaration of the sites directly affected by the tension cracks and landslides as "no build zones" and "no settlement areas."
"Landslides have recurrence periods so the affected areas could be affected by similar occurrences in the future," he said.
Aside from Barangay Ned, Acosta said the agency is also closely monitoring several other areas that are considered to be highly-prone to landslides based on its geohazard mapping.
He said these are located in South Cotabato's boundary areas with the provinces of Sarangani and Sultan Kudarat.
Also considered as landslide-prone are communities within the Roxas and Quezon mountain ranges, which straddle the province. (PNA)