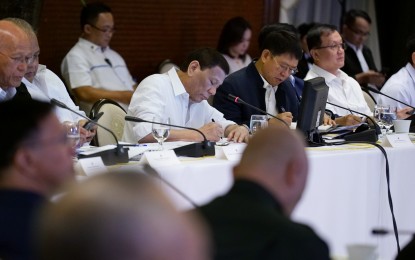 MANILA -- President Rodrigo R. Duterte has signed a law authorizing the court, in its discretion, to require community service for minor offenses.
Duterte signed the Community Service Act (Republic Act No. 11362), recognizing the policy of the State to promote restorative justice and decongest jails.
Under the law, the court may require community service instead of imprisonment for arresto menor (one day to 30 days imprisonment) and arresto mayor (one month and one day to six months).
The law defines community service as "any actual physical activity which inculcates civic consciousness, and is intended towards the improvement of a public work or promotion of a public service."
"If the defendant violates the terms of the community service, the court shall order his or her rearrest and the defendant shall serve the full term of the penalty, as the case may be, in jail, or in the house of the defendant," the law read.
"However, if the defendant has fully complied with the terms of the community service, the court shall order the release of the defendant unless detained for some other offense," it added.
The Department of Justice and the Department of Social Welfare and Development shall issue the rules and regulations to implement the provisions of the Act within 90 days from its effectivity.
CDA charter of 2019
Meanwhile, Duterte also signed the law reorganizing and strengthening the Cooperative Development Authority (CDA) or the "Cooperative Development Authority Charter of 2019" (Republic Act No. 11364).
Under the law, "the State recognizes cooperatives as associations organized for the economic and social betterment of their members, operating business enterprises based on mutual aid, and founded upon internationally accepted cooperatives principles and practices."
"The State also recognizes the right of the cooperatives to initiate and foster within their own ranks cooperative promotion, organization, training, information gathering, audit and support services, with government assistance where necessary," the law read.
The CDA shall have its head office in the National Capital Region and shall maintain the existing 16 extension offices.
It shall be an attached agency of the Department of Trade and Industry for policy and program coordination for cooperatives. (PNA)