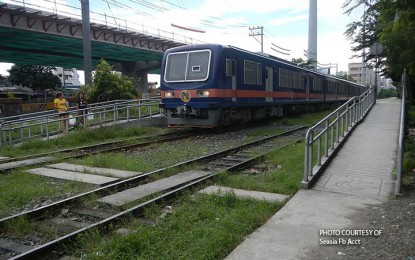 MANILA -- A Department of Transportation (DOTr) official said Wednesday they expect Metro Manila traffic to ease from 6 percent to 7 percent to 20 percent to 25 percent once all its railway assets are finished.
"Our estimate for the current pipeline when they (railways) become operational is we increase our rail capture from 6 (percent) to 7 percent up to 20 (percent) to 25 percent," DOTr Undersecretary for Railways Timothy John Batan said in a Palace briefing.
Philippine National Railways (PNR) General Manager Jun Magno said the strategy is to create several corridors by means of railway assets to reduce traffic.
"The strategy overall in rail is actually not to push everything through Edsa but actually through several corridors: One, is the subway; one, is NSCR (North-South Commuter Railway), and then MRT-3 (Metro Rail Transit)," Magno said.
"But again, the earliest that would materialize is NSCR ahead of the subway," he added.
The officials estimated that one million passengers use the country's four railway systems -- the PNR, Light Rail Transit (LRT-1, and -2), and the Metro Rail Transit (MRT-3).
Batan said on weekdays, there are about 20 million trips in Metro Manila.
"Out of that 20 million trips, we have around 14 million trips by public transport. And out of that 14 million trips, we are getting one million trips in our railway system or around 6 (percent) to 7 percent of our daily public transport commuters," Batan said.
PNR extension
Meanwhile, Magno said the PNR is mulling the construction of a bridge between Valenzuela and Malabon to extend the PNR service all the way to Malabon.
"We are poised to carry 120,000 passengers between Malabon and Calamba and we are planning to extend the service because of traffic issues that came out yesterday. That's why we might open all the way to Valenzuela," Magno said.
He said the PNR has been studying the engineering obstacles in relation to the construction of the proposed bridge, which he said will take less than 30 to 45 days to build.
"Right now, we have service all the way to Governor Pascual in Malabon. Malabon and Valenzuela (are) separated by a body of water, (the) Tullahan River. We used to have an old bridge but it was destroyed," Magno said.
"Because we are making the NSCR project, we are looking for a space where we can connect it to Valenzuela, so we could re-open service between Valenzuela and Makati," he added.
Magno said once the bridge is built, residents living in Valenzuela can take a jeepney to Governor Pascual, and take the train service from there going to Makati.
"So we'll just be adding trains. There are trains coming. We will make sure there are a lot of trains and then we connect the bridge between Tullahan and Malabon)," Magno said. (PNA)