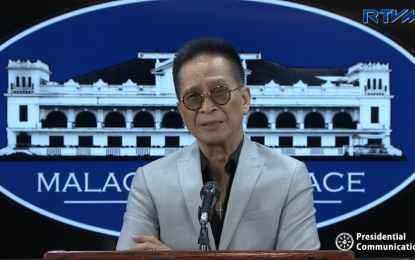 MANILA -- Malacañang on Thursday urged the local government to apprehend the foreign tourist who reportedly let her child defecate in the waters of Boracay Island.
Presidential Spokesperson Salvador Panelo said the local government may fine or file charges against the foreign tourist if proven guilty of violating any ordinance.
"That obviously is a violation so they will be subject to administrative rather suits. So we would advise them to, if they are in the Philippines, they have to follow the rules," Panelo said in a Palace briefing.
"If there is, for instance, an ordinance prohibiting those kinds of actions then they will be sanctioned by the local authorities. Eh kung may ordinance na ganun baka I-demanda sila o mai-fine pa (if there is an ordinance like that they might face charges or fined)," he added.
Panelo said the Palace is offended by the defecating incident noting that no tourist, whether Filipino or foreign, is exempted from following rules.
"We feel insulted with such discourtesy done in the beautiful island this Administration recently rehabilitated with intense and collective efforts employed by various departments and agencies of the government," Panelo said in a statement.
"It's a violation siyempre (of course) we are not happy about that. Hindi naman maganda rin yun kasi (It's not good because) we're supposed to be cleaning it up pagkatapos (and then) some people are messing it up," he added.
Panelo also urged locals and foreign nationals to help in making and maintaining surroundings and communities clean and safe.
More restrooms
Meanwhile, Panelo suggested that local government or concerned agencies could put up more restrooms all over Boracay to give beach-goers a chance to relieve themselves without returning to their hotels or accommodations.
"Maybe we should also ask also the Boracay…whoever are responsible for that place to have available restrooms all over," Panelo said. "I also noticed parang kung gusto mag (that if you want to) relieve yourself parang wala ka rin pupuntahan kung nandun ka sa beach (you have nowhere to go when you're already in the beach). Kailangan siguro merong mga (Perhaps we need) portable restrooms there. Kailangan din tulungan din natin mga turista natin (We need to help our tourists there)," he added.
On Wednesday, the Boracay inter-agency task force temporarily closed off a portion of the beachfront in Station 1 where a tourist allowed her child to defecate upon the order of Environment Secretary Roy Cimatu.
In a statement, Panelo commended both the Department of Environment and Natural Resources (DENR) and the Department of Tourism (DOT) for their swift action on the incident.
"We commend the Department of Environment and Natural Resources for the swift action in ordering an immediate clean-up in the portion of Boracay where the incident allegedly took place," Panelo said.
"We also laud the Department of Tourism for taking the right step of coordinating with tour operators and travel agencies on the proper travel etiquette in the Philippines so as to avoid a similar occurrence from taking place again," he added.
Reports on the tourist allowing her child to defecate on the beach caught the attention of authorities after a video of a woman washing her child's buttocks and another woman burying a diaper in the sand went viral.
This incident comes after Boracay underwent a six-month rehabilitation starting April 26, 2018 following President Rodrigo Duterte's pronouncement that the island had turned into a cesspool. (PNA)