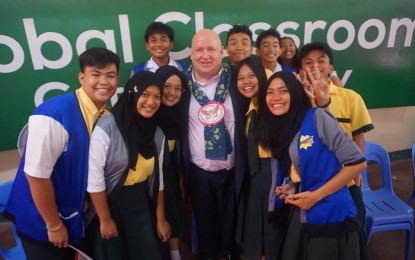 MANILA -- Eight young leaders from different parts of Mindanao were selected to participate in a four-month leadership program in Wellington, New Zealand.
The Mindanao Young Leaders Programme (MinYLP) is a four-month bespoke leadership program supported by the New Zealand government and managed by UnionAID, in collaboration with International Alert Philippines and Victoria University of Wellington.
"It aims to enhance the knowledge, skills, and confidence of young community leaders from Mindanao to actively participate in the sustainable peaceful development of their communities," International Alert Philippines said in a statement Friday.
The program aims to put these future leaders of change in Mindanao in an international scene that will expose them to new ideas and institutions.
New Zealand Ambassador to the Philippines David Strachan will send off the eight young leaders from the cities of Marawi, Cagayan de Oro, Davao, and Kidapawan, Esperanza in Agusan del Sur, and Bongao in Tawi-Tawi.
Strachan hopes to, "inspire them to think critically about what they can apply in their own communities; developing the participants' research, evaluation, presentation, communication, and analytical skills".
The ambassador will formally send off the young leaders at the Marco Polo Hotel in Davao City on August 20.
International Alert Philippines has been actively participating in assessing the peace situation in Mindanao. And bringing these young minds to a leadership program that "harnesses their energies and dynamism to create change in their communities".
As the new Bangsamoro is viewed as key to securing lasting peace and development in Mindanao, the transition is fraught with risks that may create new cycles of violence borne from exclusion and betrayed expectations.
The inputs and experiences that the scholars will gain in-country and in New Zealand will strengthen their participation in addressing the issues faced by their sector, especially vulnerability to the influence of violent threat groups. (PNA)