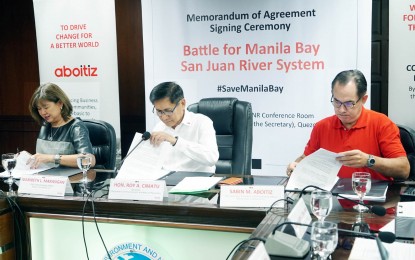 MANILA – Department of Environment and Natural Resources (DENR) gained another ally in the battle to save Manila Bay and its tributaries from further environmental degradation.
On Friday (Aug. 16), DENR and the Aboitiz group signed at the DENR central office in Quezon City a memorandum of agreement (MOA) covering the parties' three-year partnership on rehabilitating San Juan River which flows through Quezon City, San Juan, Manila and Mandaluyong City before emptying into Pasig River that discharges into Manila Bay.
"Today, we take a solid step towards winning the battle for Manila Bay with signing of the MOA," DENR Secretary Roy Cimatu said at the event.
He thanked Aboitiz for entering into the partnership despite the costliness of and difficulty in rehabilitating San Juan River due to extent of water pollution and other problems hounding the water body.
"The Aboitiz group responded by proposing to bankroll clean-up and rehabilitation of the river," he said, adding that the group will donate materials and equipment for the undertaking.
DENR, in turn, will conduct social preparation and cleanliness-focused information dissemination activities in communities along San Juan River.
He added DENR will also monitor water quality in San Juan River and assess progress of the rehabilitation work.
Cimatu said there is urgency in rehabilitating San Juan River to prevent further degradation and mitigate the flow of pollutants into Manila Bay.
"Earlier this year, DENR accepted the formidable challenge to rehabilitate and restore coastal and marine ecosystems of Manila Bay but we knew then DENR cannot accomplish the mission by itself – we will need the support and participation of LGUs, communities, other government agencies, NGOs, private groups and industry," he said.
Under the MOA, the Aboitiz Equity Ventures, Inc. (AEV) will be the undertaking's overall project manager.
Cimatu added the group's Aboitiz Foundation Inc. will serve as overall director for implementation of the undertaking.
Aboitiz group's public holding company is AEV which has major investments in power, banking and financial services, food, infrastructure and land.
AEV Chief Operating Officer Sabin Aboitiz and the foundation's Chief Operating Officer Maribeth Marasigan also signed the MOA.
They thanked DENR for the opportunity to help save Manila Bay from further degradation.
"We're honored to be entrusted with San Juan River," Aboitiz said at the event, as he assured Aboitiz group's commitment to help rehabilitate the river, noting this work is vital to saving Manila Bay.
"There's no doubt Manila Bay is a symbol of our country," he said.
Aboitiz group joined the battle for Manila Bay as he said everyone has a role in saving this water body.
According to AEV chief external relations officer David Jude Sta. Ana, bulk of rehabilitation activities for San Juan River will likely begin next year as planning for the work will start this year.
"We can't put a peso figure on the work yet because we must still look into what needs to be done and what we can do," he said.
He said Aboitiz group will work with DENR and communities concerned to improve water quality in San Juan River.
Among DENR's corporate allies in the battle for Manila Bay are conglomerate San Miguel Corporation (SMC) and integrated property developer SM Prime Holdings Inc. (SMPH).
SMC committed to help rehabilitate Tullahan-Tinajeros River.
SMPH pledged to help reduce pollution in Estero de Tripa de Gallina and Paranaque River.
Those three waterways are tributaries of Manila Bay, noted DENR.
The partnership on San Juan River is not a first for DENR and the Aboitiz group.
Both parties earlier renewed the partnership on sustaining ecological balance through planting nine million trees by 2020's end, according to the Aboitiz group.
Aboitiz group also supported rehabilitation of top tourist destination Boracay Island by adopting and reviving four wetlands in the area. (PNA)