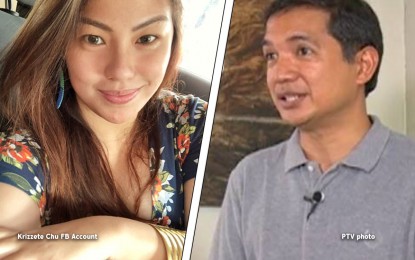 MANILA-- A Filipino writer and radio host has blamed former Bayan Muna party-list Rep. Teddy Casiño for agitating many young people, especially students, to rebel against the government.
In an open letter posted on her Facebook page on Friday, Krizette Laureta Chu described Casiño as an "incendiary figure who has caused many mothers grief by inflaming their children with wrong ideologies" amid reports of recruitment of minors into the Communist Party of the Philippines - New People's Army (CPP-NPA).
"Huwag ako (Not me). Huwag ako ang takutin mo (Don't threaten me) because I will move heaven and earth to expose you. Maybe by filing a case against me, your hypocrisies will be revealed. I'm willing to be sacrificed at the altar of your fake agendas so that no more mothers will lose children to hypocrites like you. Open the Pandora's box, I dare you," she added, challenging the former legislator to file a case against her.
Chu also lashed back at Casiño for being indignant without any basis and validation.
"Ikaw pwede mag criticize ng iba at pwedeng mandamay ng pamilya, Pero kaming regular na mamamayan, hindi? Mananakot ka ng kaso? Kayo pwede abusado at walang validation ang claims pero pag kayo ang kino-call out may kaso? (You can criticize others and drag their families but us ordinary citizens can't? You threaten to sue? You can be abusive and make claims without validation but when you're called out, there's already the threat of a case?), " she said.
Casiño earlier called out Chu, who has over 100,000 followers on her social media page, for including the photo of his family on one of the latter's post against him.
In a recent post, the former lawmaker said he is mulling to sue Chu for her "malicious accusations" against him and for using his child's private photos.
Hypocrisy
Chu also said Casiño is "not being crucified for being an activist, but for being a hypocrite."
"Hindi masama maging activist, lalo na pag totoong may pinaglalaban ka. Ang masama maging hypocrite (It's not wrong to be an activist, more so if you're really fighting for something. What's wrong is being hypocrite)," she said.
Chu said Casiño has a lavish lifestyle, a far picture than the children being indoctrinated into the communist movement.
"Kumusta ang pakape kape sa Makati Sports Club? Kumusta and buhay pa travel travel habang yung ibang bata pa travel travel papuntang bundok? (How's your coffee sessions in Makati Sports Club? How's your life full of travels while other kids are travelling to the mountains?)," she said.
More effort
In a message of support to Chu, Drei Toledo, a daughter of a rebel leader whom she referred to as an "untouchable NPA Supremo", said the public "should not fall into the trap of differentiating communist-terrorists from one another by idealizing the motive of others."
They are after all, she said, all the same, "hypocrites and liars."
Toledo also asked the government to exert more effort to end the communist movement.
She also asked the public to avoid romanticizing the story of communist leaders Benito Tiamzon and his wife Wilma.
"It is absolutely not accurate to say that the Tiamzon couple is 'true full-blooded communist revolutionaries who sacrificed so much for the ideology they embraced' or that they are 'really committed revolutionaries, principled and willing to sacrifice everything for their belief," she said.
"There are over 50 bank accounts filled with millions of dollars from NPA 'revolutionary tax' collections saved in their personal offshore accounts," she added.
Earlier, the National Task Force to End Local Communist Armed Conflict hit Casiño for defending and justifying efforts by progressive groups allegedly linked to the CPP-NPA to recruit students and minors to boost their ranks.
The CPP-NPA is listed as a terrorist organization by the United States, the European Union, the United Kingdom, Australia, Canada, New Zealand, and the Philippines. (JLR/PNA)