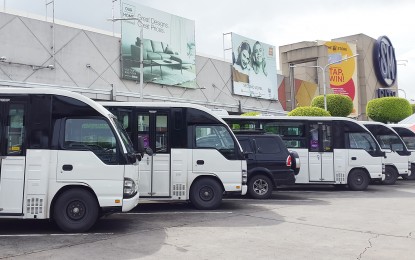 CITY OF MALOLOS, Bulacan -- The first 16 new jeepneys under the government's Public Utility Vehicle (PUV) modernization program will start plying the streets in this province on Monday.
The first batch of the modernized jeepneys will be servicing the route from Sampol Market in the City of San Jose Del Monte to Santa Maria and Meycauayan City.
Jesus Sison, head of enforcement of the Land Transportation Franchising and Regulatory Board (LTFRB), during the modern PUV caravan held at the SM City Marilao on Friday, said this is the first route in the province to undergo PUV modernization.
Under the PUV modernization system laid down by the LTFRB, public utility vehicles older than 15 years will no longer be allowed to travel on the streets as public transport.
The units must be replaced with brand new or new configurations based on the Philippine National Standard (PNS), such as the Euro 4 crude engine.
LTFRB regional director Ahmed Cuizon explained that a particular route would need to be developed in order for old jeepneys to be replaced with new units.
"In this way, the cooperative members will jointly own the new jeepney units," Cuizon said.
To avail of the program, jeepney drivers on this new route formed themselves into the Sampol Bulac-Santa Maria-Meycauayan Transport Service Cooperative.
"This is the key requirement of the LTFRB in order for them to qualify in lending fund for PUV modernization from Land Bank of the Philippines," Cuizon said.
The Land Bank of the Philippines has allocated PHP1.5 billion for LTFRB's PUV modernization program, which will lend money to drivers so that they can buy new jeepney units.
The loan has no interest and is payable up to seven years. In addition, the government gives an PHP80,000 subsidy to ease amortization payments.
Roberto Villacruz, a driver and treasurer of the Sampol-Santa Maria-Meycauayan Transport Service Cooperative, said a total of 32 new jeepney units have been funded by the Land Bank of the Philippines for their PUV modernization.
He said the second batch of 16 jeepney units will soon arrive.
The minimum fare is PHP11 as the replacement units are fully air-conditioned.
"The back door is closed so the door is on the right side of the said vehicles. People often stand without stooping or bowing their heads as 22 people can sit down," Villacruz said.
The Sampol Bulac-Santa Maria-Meycauayan Transport Service Cooperative is the first in Central Luzon to comply with the PUV modernization program.
The modern PUV units will soon ply routes covering major areas in the province such as Malolos City, Meycauayan City, Malinta, and Baliwag. (PNA)