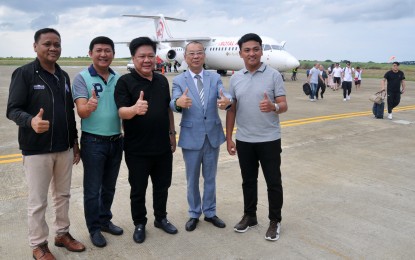 CALASIAO, Pangasinan – Commercial flights started operations at the Cagayan North International Airport (CNIA) on Sunday, with Royal Air's (RJ 100) inaugural flight from Macau to Lal-lo municipality.
In an interview, Cagayan Economic Zone Authority (CEZA) Special Assistant for Investments and Promotions Raymundo Roquero said Royal Air would initially operate both international flights from Lal-lo to Macau and vice versa, and domestic flights from Lal-lo to Clark and vice versa, twice a week.
In a separate interview Monday, CEZA administrator and chief executive officer Secretary Raul Lambino said the regular flights of Royal Air at CNIA will start on Wednesday and Sunday this week.
With the opening of commercial flights at CNIA, Lambino said the continuous growth of tourist arrivals and investments are expected in the area.
"We are talking already with other airline companies. Cebu Pacific had conducted its own inspection and investigation of our airport. We are hopeful that they will start their commercial operations soon. We are also talking to the Philippine Airlines (PAL). Air Asia had come to our office several times, they also had their own inspection and investigation of the airport," he said.
"I was in Hong Kong two weeks ago, talked to Asia Television Group. I also met several companies, Hong Kong-based and registered companies. There will be more investments coming to CEZA," he added.
The CNIA, located in the municipality of Lal-lo in Cagayan province, was built to support the CEZA in northern Cagayan - along with Port Irene that would handle seaborne traffic.
Before the inaugural flight on Saturday, chartered flights landed at the airport.
The Civil Aviation Authority of the Philippines (CAAP) granted the airport on June 23, 2016 a new certification, allowing it to handle aircraft with a capacity of up to 100 seats, up from only 29-seat capacity aircraft under the previous certification.
The airport can accommodate narrow-body commercial airliners, such as Airbus A320 and Boeing 737. (PNA)