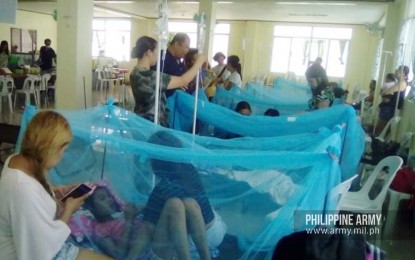 MANILA -- An alliance of patients' organizations on Tuesday called on the government to lift the ban on dengue vaccines to give patients access to medicines and prevent the further spread of the disease amid the declaration of a national dengue alert.
In a statement, the Philippine Alliance of Patients' Organizations (PAPO) said they want "proper information from experts to be able to make informed decisions", hoping that patients and their families could have access to dengue vaccines.
"A vaccine that would benefit a hyperendemic population like our own exists. With an internationally approved vaccine, patients in the Philippines should be allowed the choice of getting immunized," PAPO president Girlie Lorenzo said, adding that some patients have gone abroad just to access dengue vaccines.
Early this year, the Food and Drug Administration permanently revoked the certificates of product registration issued to Dengvaxia products after vaccine-maker Sanofi Pasteur failed to submit post-approval commitment documents.
The PAPO urged the public not to politicize the dengue vaccine issue because "majority of those who are dying from dengue are children."
It added that the dengue epidemic makes many hospitals overcrowded and understaffed, forcing patients suffering from chronic illnesses to be displaced.
"Some illnesses have no cure and no vaccine, but chronic patients are being displaced in public hospitals because of an epidemic that could have been prevented," it added.
According to the Department of Health's (DOH) Epidemiology Bureau, about 14,321 new dengue cases with 46 deaths were reported from July 20 to August 3.
The DOH said the number of new cases is 76 percent higher than the number of cases recorded in the same period last year. The cumulative number of dengue cases from January 1 to August 3 stands at 188,562.
Earlier, the DOH declared a national epidemic to identify and provide localized response to hundreds of deaths caused by dengue.
The PAPO is the umbrella organization of at least 32 illness-specific patient groups representing nearly a million patients in the Philippines.
Earlier this month, President Rodrigo Duterte said he will listen first to the recommendation of health experts before deciding on whether or not to allow again the use of Dengvaxia, in wake of the DOH's declaration of a national epidemic due to the alarming surge in the number of dengue cases. (PNA)