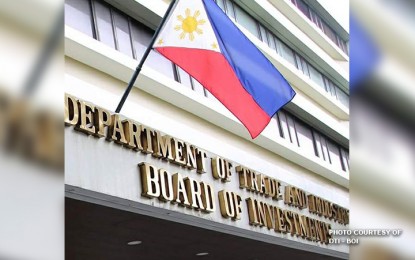 MANILA -- The total approved investments registered with the Board of Investments (BOI) surged by 24 percent to PHP312.8 billion between January to July 2019, indicating investors' continuous confidence in the country.
In a statement Tuesday, the BOI said it approved foreign investments worth PHP69.6 billion during the period, up a whopping 348 percent; while local investments increased slightly by 2.7 percent to PHP243.2 billion.
"Investors continue to signal their strong confidence in the Philippines and the Duterte administration despite the challenges generated by the global tensions among nations. This growth was still resilient enough to withstand the global demand downturn brought about by the lingering trade dispute between the U.S. and China, the trade spat between Japan and South Korea, and other geopolitical tensions," Trade Secretary and BOI chairman Ramon Lopez said.
Lopez underscored the need for the country to diversify its markets by identifying new destinations for more opportunities, while ensuring that domestic base remains strong and on the upswing to soften the impact of these trade disputes.
He said the recent trade spat between Korea and Japan should prompt the country to intensify and complete the negotiation of the free trade agreement with South Korea, and review or enhance the Philippines-Japan Economic Partnership Agreement to avail of more opportunities and exchanges with Japan.
"Our investments are still growing amid the international tensions. We still have a lot of pending projects that need thorough study and evaluation. I am still confident that by the end of the year, we are going to attain our target despite the global uncertainties," Trade Undersecretary and BOI managing head Ceferino Rodolfo said.
Rodolfo also assured foreign investors that the Philippines is a "safe haven" for their investments and they should take advantage of the "very strong domestic demand" and commit to long-term deals.
The BOI said Singapore remained the top among foreign investors with PHP35.4-billion investments in January to July. Netherlands came in second with PHP9.2 billion, Thailand - PHP8.6 billion, Japan - PHP5.8 billion, and the United States - PHP2.4 billion.
Power projects remained among the biggest investments with PHP195.1 billion in January to July, a 65.3-percent increase from PHP118 billion in the same period last year.
Investments in the manufacturing sector surged with PHP46.1 billion, a 132.6-percent jump from PHP19.8 billion in January to June 2018.
The information and communication sector posted a 9,680-percent increase in investments to PHP33.2 billion from merely PHP340 million last year.
Region IVA-Calabarzon remained steady at the top among the regions, cornering the lion's share with PHP203.3 billion, or 65 percent of the total figure.
Region III – Central Luzon followed with PHP29.3 billion, National Capital Region - PHP11.7 billion; Region II – Cagayan Valley - PHP10 billion; and Region VII – Central Visayas -PHP9.4 billion. (PNA)