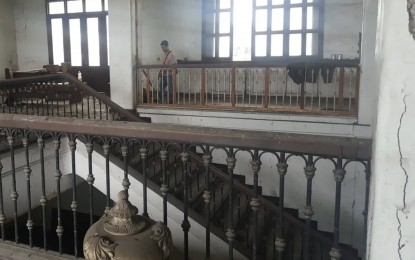 CEBU CITY – As Finance Secretary Carlos Dominguez expressed his support to convert the Malacañang sa Sugbo (old customs house) into a regional museum, representatives of the National Museum of the Philippines (NMP) conducted an ocular inspection of the facility on Wednesday.
Senior Supt. Glen Sarador, port security acting manager of the Cebu Port Authority (CPA), said the NMP team headed by architect Nelson Aquino took photos and actual lengths of the spaces inside the old facility located in Pier 1 here.
"They need to take actual assessment of the building's status for purposes of formulating program of works and estimates (POWE) for the repair of the building," Sarador said in a phone interview with the Philippine News Agency (PNA).
The estimates for the repair need to be submitted to the Department of Budget and Management (DBM) in the first week of September so that it can be included in next year's budget, Sarador quoted Aquino as saying.
Aquino's team was accompanied by Sarador himself and representatives from the Bureau of Customs – Port of Cebu.
On Tuesday afternoon, the Office of the Presidential Assistant for the Visayas (OPAV) released to media the letter of Dominguez addressed to Customs Commissioner Rey Leonardo Guerrero, stating his recommendation to restore and convert the former customs house of Cebu port into a museum.
"I have no objection to both Secretary Dino's and chairperson (Evangeline) Arroyo-Bernas' suggestion and highly recommend the initiative," Dominguez said in a letter dated last August 8, with instruction to Guerrero to "study the proposal and coordinate" with the NMP.
Dominguez said that last July 25, Dino wrote to him conveying the strong interest of the National Museum Board of Trustees, headed by Arroyo-Bernas, "to re-establish its presence in Cebu City through the restoration and conversion of the historic former Customs House of the Port of Cebu into the Central Visayas regional museum of the National Museum."
Shirley Abarintos, deputy collector for administration of BOC-Cebu, told the PNA that the building was already turned over to them last April so that it can be reverted as Port of Cebu's office.
She said the present customs building in Pier 6 was no longer safe for occupancy after the 2013 earthquake.
Abarintos, however, said the plan to transfer to the Malacañang sa Sugbo was temporarily shelved as the OPAV pushed for its conversion into a regional museum of the NMP. (PNA)