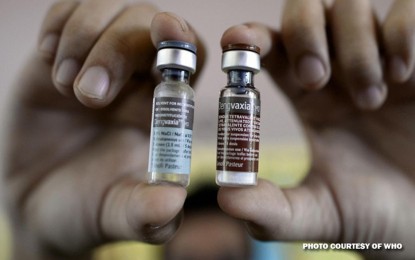 MANILA -- The Department of Health (DOH) said it denied the appeal of Sanofi Pasteur, Inc. to reverse the ruling of the Food and Drug Administration to permanently ban the use of Dengvaxia in the country.
In a statement on Thursday, DOH Sec. Francisco Duque III said it upheld FDA's action on Sanofi's "continued failure to submit post-approval requirements" of the anti-dengue vaccine.
"The decision concerns Sanofi's complete disregard of FDA regulations, which were precisely put in place by law to ensure safety," Duque said.
DOH Undersecretary and FDA officer-in-charge Eric Domingo earlier said the French drug maker sent an appeal to the office of the secretary last month on FDA's revocation of their Certificate of Product Registration (CPR), amid the continued increase of dengue cases nationwide.
In February, the FDA, a DOH-attached agency, permanently revoked Dengvaxia's CPR, a year after Sanofi admitted that it can cause more severe symptoms on vaccinees who have not had dengue.
Domingo said that Dengvaxia "remains unavailable in the Philippines and cannot be used in the country".
Sanofi, as a holder of the CPRs for Dengvaxia and Dengvaxia MD, is bound by post-marketing commitments which include the submission of Risk Management Plans (RMP), the DOH said.
Citing that Dengvaxia is an innovative drug, the DOH said Sanofi's compliance to its post-marketing commitments was important because they are "critical to public safety".
"The DOH found that, while Sanofi has submitted the first and second versions of the RMP, it has failed to submit the third version, and has belatedly submitted the fourth version, in violation of its post-marketing commitments and pertinent FDA rules and regulations," the DOH statement read.
"The registration of Dengvaxia is for the FDA to act upon and that the DOH is currently focusing on response to dengue," it added. (PNA)