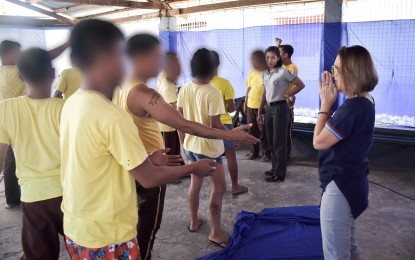 MANILA -- The law, which effectively shortens the jail term of convicts through a good conduct time allowance (GCTA) system, should not favor wealthy and influential inmates, a Catholic Bishops' Conference of the Philippines (CBCP) official said on Thursday.
"Hopefully, the law will not be used to grant favor to powerful and rich people. It should not be used by those in power to favor their friends and allies," CBCP-Episcopal Commission on Prison Pastoral Care executive secretary Rodolfo Diamante said in an interview.
The CBCP-ECPPC official noted that the "essence of the law on GCTA (good conduct time allowance) is to give chance to those who have done well in prison.
Diamante said a strict review of a prisoner's record must be implemented.
"The BuCor (Bureau of Corrections) people especially the Director and the Board of Pardons and Parole will have to do proper and appropriate vetting on each prisoner to be released," Diamante said.
"There must be 'proof of good conduct'. Look into the Committee that was supposed to set the criteria for granting GCTA," he added.
Recent reports said former Calauan, Laguna mayor Antonio Sanchez is among those inmates who may be freed soon following the implementation of a recent Supreme Court (SC) decision, which effectively shortened their prison terms - through more liberal rules in computing GCTA.
In 1995, Sanchez was convicted for the rape-slay of University of the Philippines (UP) Los Baños student Eileen Sarmenta and the murder of her boyfriend Allan Gomez in 1993.
Sanchez was sentenced to seven counts of reclusion perpetua or up to 40 years imprisonment.
The former Laguna town mayor's conviction was affirmed by the Supreme Court in 1999.
On June 25, the SC declared invalid Section 4, Rule 1 of the Implementing Rules and Regulations (IRR) of Republic Act 10592 amending portions of the Revised Penal Code.
The said IRR provided for the prospective application of the GCTA of prisoners for: good conduct, study, teaching, and mentoring service, and loyalty.
As a consequence, all prisoners - regardless of whether already serving his/her sentence or undergoing preventive imprisonment - may qualify for the reduction of their sentence pursuant to the time allowances under Republic Act 10592.
Republic Act 10592 expanded the application of the good conduct time allowance for prisoners even during preventive imprisonment and increased the number of days that may be credited for good conduct time allowance. (PNA)