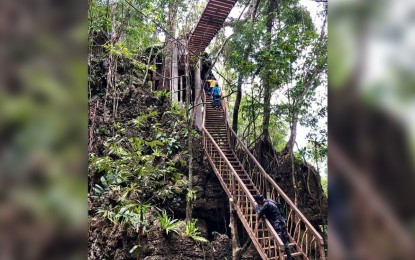 PARANAS, Samar -- Residents of this town are optimistic the newly-opened Paranas Eco-trail and Birding Site will bring additional income from eco-tourism.
The new destinations will be managed by local women's organization Tenani Association for Women and Development (TAWAD).
The village has been known for the Ulot River Extreme Torpedo Boat Ride, transforming a portion of Samar's longest river into a haven for nature lovers and extreme boat ride enthusiasts.
The Department of Tourism (DOT), Department of Environment and Natural Resources (DENR), local government units, and people's organization launched the new destination on Wednesday.
"The success of this eco-trail will not only benefit the residents of Tenani but even our nearby villages and the entire town of Paranas," said Elizabeth Doza, eco-trail general manager.
"This will provide us sustainable livelihood and will ensure the protection of our environment since residents will not anymore be engaged in logging activities," Doza said.
The all-male group, Tour Guides, and Boat Operators for River Protection and Environmental Development Organization (Torpedo), will help them in running the new tourism site.
Boatmen and river guides have been trained by the government on how to deal with tourists and ensure their safety during the tour.
"This eco-trail is an additional income for our families. The women will now have a way to help their husbands by managing the eco-trail," said Eugene Igdalino, Torpedo president.
The eco-trail and birding site is within the Samar Island Natural Park (SINP), the largest contiguous tract of old-growth forest in the Philippines and also the country's largest terrestrial protected area, with an area of 333,300 hectares.
The SINP is home to 215 bird species and over 1,000 species of flora and fauna, making an eco-trail an ideal activity.
Five rest stops in the eco-trail and birding site offer different attractions to guests.
Sinkholes are seen in the first stop, tall trees in the second stop, organic farm in the third stop, a view deck and birding site in the fourth stop, and three treehouses with a hanging bridge at the last stop.
The development of the trail complements the natural setting of SINP to preserve the natural resources and the environment.
"One thing that is nice about this project is we will have a model community or organization which can be replicated in other villages of Paranas for them to realize that they have a lot of potentials to achieve only if they are organized, "Paranas Mayor Eunice Babalcon said.
The mayor added they are also eyeing to develop another village into an eco-farm destination.
The eco-trail and birding sites are projects of late environment chief Gina Lopez through her Bantay-Kalikasan advocacy supported by the DOT and DENR.
Samar Vice Governor Michael Tan thanked Lopez for helping Samar village by introducing tourism as an alternative source of sustainable livelihood.
"In many ways, she had impacted the people and community of Samar. I had been inspired by Ma'am Gina and I admire her dedication to service, to God, to the environment and the community. Let us not forget that the environment is our treasure and let us protect it," he added.
Paranas is a 2nd class town in Samar province with a population of 30,557. The town is 97 kilometers north of Tacloban City, the regional capital. (PNA)