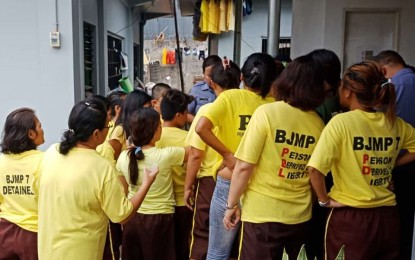 DUMAGUETE CITY -- A surprise inspection and random drug testing of inmates at the female dormitory of the city jail here Thursday has yielded negative results.
The Philippine Drug Enforcement Agency (PDEA) - Negros Oriental conducted the inspection at the Bureau of Jail Management and Penology (BJMP) in Barangay Bajumpandan and did not find any illegal drugs in the three cells of the female dormitory.
Drug-sniffing dogs of the PDEA K9 unit were used to search the jail facility.
After the search, 30 persons deprived of liberty (PDL) were subjected to drug testing. They all tested negative though.
The majority, if not all, of the PDLs who underwent the urine sample testing were accused of violating provisions of Republic Act 9165 or the Comprehensive Dangerous Drugs Act, said acting jail warden Senior Jail Officer 4 Dolores Almodiel, who was present during the search.
A total of 17 jail guards were also subjected to urine tests, which also yielded negative results.
There are about 86 PDLs in the district female dormitory of the BJMP's city jail, 80 percent to 85 percent of whom were involved in illegal drugs cases, Almodiel said. (PNA)