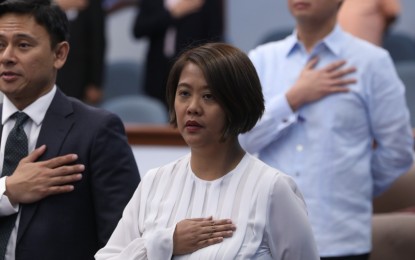 MANILA -- Senator Nancy Binay on Friday cited the need for a full review of the procedures in granting Good Conduct Time Allowance (GCTA) to prisoners to avoid "reckless errors".
In a statement, Binay warned the Bureau of Corrections (BuCor) that a simple math mistake in computing GCTAs can directly perpetuate wholesale injustice.
"Kaya, wag natin itong tingnan lamang sa simpleng credit o deduction dahil sa 'good behavior'. Malaki ang implikasyon ng bawat araw at numero sa computation -- an error can be a criminal's ticket to freedom (Let's not just look at it as a simple credit or deduction for 'good behavior'. Every day or number in the computation has a huge implication -- an error can be a criminal's ticket to freedom)," she said.
This came in the wake of reports that former Calauan, Laguna mayor Antonio Sanchez will be among those entitled to early release from prison under the new GCTA rules set by a June 25 Supreme Court (SC) ruling.
SC spokesman Brian Keith Hosaka, however, clarified that there is no order to release the former mayor from prison.
Sanchez was sentenced to seven counts of reclusion perpetua or up to 40 years imprisonment by the Pasig Regional Trial Court in 1995 for the rape-slay of University of the Philippines (UP) Los Baños student Eileen Sarmenta and the murder of her friend, Allan Gomez, in 1993.
"It's hard to imagine hardened criminals walk free without fully serving their life sentences just because of a clerical lapse, at dahil nga may good conduct, pwede na silang lumaya nang mas maaga without the families of victims being informed (and because of good conduct, they could be set free early without the families of victims being informed)," Binay said.
She suggested that Republic Act (RA) 10592, or the GCTA law, have a provision to have candidates or applicants for clemency published in newspapers or online for the public and the families of victims to be informed of the convicts' status.
She noted that while RA 10592 increases GCTAs, it does not define "good behavior" as applied to extremely serious crimes, and is therefore open to many interpretations.
"We need to have clear definition of terminologies and measurable indices para may legal and material basis. At kailangan din may listahan ng certain crimes na qualified for clemency o sa GCTA. Kung double- or triple-life, dapat automatic na disqualified (And there should be a list of crimes that are qualified for clemency or GCTA. If there are multiple life sentences, [the convict] should be automatically disqualified)," Binay said.
The senator also suggested that the law be amended in such a way that the GCTA would not apply to heinous crimes, such as massacres and multiple rapes, particularly of children.
"Our daughters and sons will never be safe if the law becomes lenient to hardened criminals like rapists and murderers. The crimes they've committed are indivisible, unforgivable and beyond any sensible man's latitude," she said.
"What is necessary is for the State to have a functioning oversight that would check not only the math, but for penal bureaus to come up with a holistic evaluation procedure that is independent, fair, thorough, and impeccable," she added.
On Thursday, Senate President Vicente Sotto III filed a resolution seeking a review of the law on GCTAs.
Sotto said he wants some amendments to the law "to ensure that those prisoners who truly deserve the law's benefits shall be granted the same." (PNA)