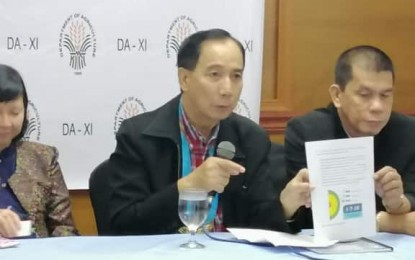 DAVAO CITY -- Mindanao will be the food basket of the Philippines and will be given its due share and priority in agriculture and rural development.
This was the take of Agriculture Secretary William Dar in a press briefing in Davao City on Saturday, wherein he cited that Mindanao is a great contributor to the economy of the country.
Dar cited the potential of Mindanao due to its rich soil, climate and its regions which he said, is conducive to development and a center for agri-industrialization.
"We will rectify that from the point of view of agriculture and rural development, we can go beyond that because there is lesser occurrence of natural disasters in Mindanao," he stressed.
He added that the agri-industrialization vision is the Department of Agriculture's (DA) thrust in tandem with Department of Trade and Industry (DTI), wherein they are not only focused on improving productivity but also the increase in the income of farmers and the investors in the area.
"We believe that we need a higher level of productivity, the farmers must be made competitive and become prosperous as well," he said.
Dar also cited that the cacao commodity has a great potential to place Mindanao in the international market.
"We look for some potential area where we can expand the cacao industry because the market is open. We are even exporting some of these fermented beans but there is still a deficit in terms of the requirements of the country," he bared.
Dar said DA will strengthen the cacao industry roadmap with DTI so that they will further institutionalize the value chain system.
He added that they will continue to invite cacao big players, private sector, "agripreneurs" who will bring their technologies and market in the country.
"We will not just leave by providing business partners, but we will see to it that also in the process of grouping or forming associations or cooperatives, the small cacao growers can also participate," he said.
He said Davao Region is producing about 80 percent of the cacao beans in the country.
"I recognized that there are existing small and medium processing groups, this is my plea to all the stakeholders, let's process and manufacture the beans in Mindanao right here in Davao," Dar stressed.
He assured that the cacao industry will be strongly developed for an inclusive agribusiness in the country. (PNA)