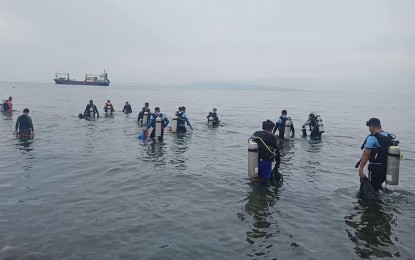 DUMAGUETE CITY – At least 15 scuba divers from the Philippine National Police (PNP) in Negros Oriental and the Philippine Coast Guard (PCG)-Dumaguete Station have teamed up with a group of students advocating the protection of the environment by collecting trash from the sea in Dumaguete.
The activity, initiated by the Students Towards Environmental Welfare and Research for Development and Sustainability (STEWARDS) of the Silliman University Institute of Environmental and Marine Sciences (SU-IEMS), was held Monday in celebration of National Heroes' Day.
Police Maj. Varie Villanobos headed the PNP team while Lt. Commander Jahnsen Benjamin led the Coast Guard divers.
According to Alessandra Abadia, president of STEWARDS, they also did a WABA or waste assessment and brand audit.
This means that the trash collected would be segregated and examined, to help identify "which companies have the most plastic or other wastes that we can find in the ocean," Abadia said.
"It's one way of holding these big companies accountable for the number of products they produce without considering the impact on the environment," she added.
Two dives were carried out, first at Silliman Beach in Barangay Bantayan, and the stretch from Canday-ong in Barangay Calindagan to the city port.
The volume of trash was not immediately determined though.
Plastic sachets, plastic water bottles, glass bottles, tetra packs and cigarette butts were among the trash collected. (PNA)