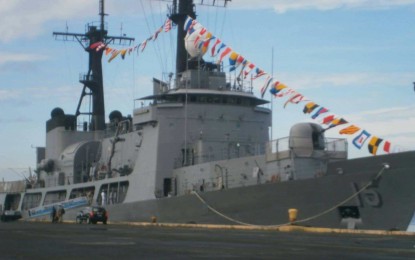 MANILA – The BRP Gregorio del Pilar (PS-15) might be restored to service by the second semester of 2020, Philippine Navy (PN) Flag Officer-in-Command, Vice Adm. Robert Empedrad, said Wednesday.
Repair of the ship's propeller and hub, which was damaged during its grounding off Hasa-Hasa Shoal while patrolling the area on August 29 last year, is still not completed, Empedrad said.
"The problem with the (Gregorio) del Pilar is that its propeller and another important part, which (were) damaged in the grounding, will only be available by (either the) first or second quarter of next year and the (ship) might be repaired by the second semester of next year," he said in a mix of Filipino and English in a press briefing.
He added that they are trying to expedite its repair because without it, the Navy only has two large ships capable of long-distance patrol -- the BRP Ramon Alcaraz (PS-16) and BRP Andres Bonifacio (PS-17).
The Gregorio del Pilar was towed from the Hasa-Hasa Shoal on Sept. 3, 2018 and arrived at Subic Bay, Zambales four days later.
Meanwhile, Empedrad said the newly acquired BRP Conrado Yap (PS-39) from South Korea was ready for deployment.
"I am also happy that our corvette (the Conrado Yap) is already here and we can deploy it to Palawan, Zamboanga. It can patrol the eastern side of the country," he said.
The Conrado Yap was formally commissioned into the Navy at the Jinhae Naval Base in South Korea last August 5 and arrived in the Philippines last August 20. (PNA)