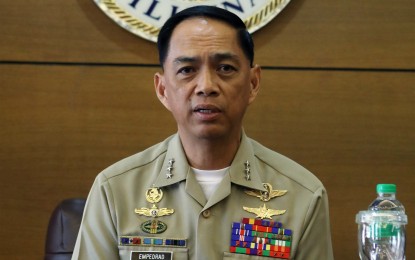 MANILA -- The Philippine Navy's (PN) second missile frigate, the BRP Antonio Luna (FF-151), will be formally launched in November.
"Our second frigate will be launched on either the first or second week of November. By that time, the first frigate (BRP Jose Rizal (FF-150) will be finished (fitting its equipment)," said Navy flag-officer-in-command Vice Admiral Robert Empedrad during an interview with reporters at the PN headquarters at Naval Station Jose Andrada, Roxas Boulevard, Manila Wednesday.
The launching ceremonies will take place at the Hyundai Heavy Industries (HHI) shipyard in Ulsan, South Korea.
The BRP Jose Rizal, the country's first missile frigate, was launched at the same facility last May 23.
The first missile frigate is expected to be delivered to the PN by April 2020 while the BRP Antonio Luna is scheduled for September of the same year.
The Philippines and HHI signed a PHP16-billion contract for two missile-armed frigates with another PHP2 billion set aside for its weapon systems and munition.
The steel-cutting for BRP Jose Rizal took place in April 1, 2018 while the same ceremony for BRP Antonio Luna transpired on November the same year. This event officially signified the start of the actual construction of the frigates.
Meanwhile, the keel-laying ceremony for BRP Jose Rizal took place in October 2018 as the formal recognition of the start of the ship's construction.
Keel-laying refers to the official start of the construction of any ship and is considered among the four highlights of any surface vessel with the other three being steel-cutting, commissioning, and decommissioning.
Both ships are armed with an Oto Melara 76mm Super Rapid main gun, an Aselsan SMASH 30mm remote-controlled secondary cannon, anti-submarine torpedoes, and anti-air and ship missiles.
The Jose Rizal-class frigates of the PN are also equipped with a Hanwha Systems' Naval Shield combat management system (CMS), which integrates all shipboard sensors and weapons and decides on which is ideal to deal with any incoming threats.
This system can also detect and track air, surface and sub-surface targets and is used in various configurations by the Republic of Korea Navy, Royal Malaysian Navy and the Indonesian Navy.
"It is a strategic move as (these) ship(s) will be the most powerful in the PN due to its multiple capabilities," Empedrad earlier said. (PNA)