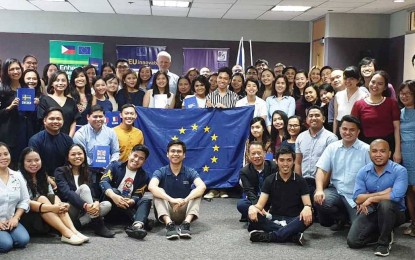 MANILA -- The European Union (EU) has awarded a total of 66 Erasmus+ scholarships to Filipino nationals, making the Philippines the 6th largest source of Erasmus+ scholars this year.
In the coming weeks, 66 Filipino students will pursue their academic dreams in several countries under the EU program, which allows them to pursue MA programs in different universities across the European continent.
The scholarship is structured to allow students to pursue their studies in more than one country giving them the opportunity to benefit from the academic expertise and culture of more than one university.
European Union Ambassador to the Philippines Franz Jessen announced that the Philippines ranks sixth globally as among the countries that have the highest number of scholars.
Jessen has congratulated the Erasmus+ students and urged them to become ambassadors of goodwill and agents of change to help strengthen the partnership between the EU and the Philippines.
He also encouraged the Erasmus+ scholars to give back to their country after they finished their program in the EU. This program gives life-changing opportunities for Filipino students to experience living the European culture, learning European languages and being integrated into European society for one to two years.
Ayee Macaraig, an incoming Erasmus Master in Journalism, Media and Globalization student said: "The Erasmus Mundus scholarship offers not just academic excellence but also an international, multicultural perspective. It is a ticket to understanding other cultures while rediscovering our own. I'm thrilled about representing my country in Europe. I believe there is immense value in discovering new cultures, appreciating similarities and differences, and respecting diversity."
Macaraig will first study in Aarhus University and the Danish School of Media and Journalism (Denmark) and then at the University of Amsterdam (The Netherlands).
Meanwhile, Jayson Gabriel Pinza, an incoming student of Joint Master Degree (JMD) in Groundwater and Global Change (GroundwatCH) said he decided to pursue JMD GroundwatCH to update his knowledge, skills, and techniques in hydrogeology, which he plans to utilize back in the Philippines.
"As an aspiring hydrogeologist, I plan to use what I have learned to contribute in solving rampant and relevant issues in hydrogeology in the country. As a passionate teacher, I also wish to impart what I have learned to future aspiring Filipino hydrogeologists," he said.
"With these, as a former scholar of my country for eight years, I hope that I would be able to give back to my country and serve the nation well in my own way," he added.
Pinza is going to study in three institutions: Instituto Superior Técnico, Universidade de Lisboa (Portugal), Stichting IHE Delft-IHE Delft Institute for Water Education (The Netherlands) and Technische Universität Dresden (Germany).
The Erasmus+ promotes the EU as a center of excellence in learning and making student mobility a reality for EU and non-EU citizens alike.
Jessen has also cited the efforts of the Erasmus alumni led by Kate Ramil who has also initiated the Campus Erasmus to further promote the scholarship and mobility program in the country and in other regions.
The EU Delegation in collaboration with the Erasmus alumni has also been holding information sessions to promote the Erasmus+ program as well as the European Higher Education Fairs. The next European Higher Education Fair is scheduled on 26 October 2019 at the Shangri-La Plaza in Mandaluyong.
The Erasmus+ is among the leading international academic mobility programs in the world, and students from the Philippines have benefited considerably from the program. (PR)