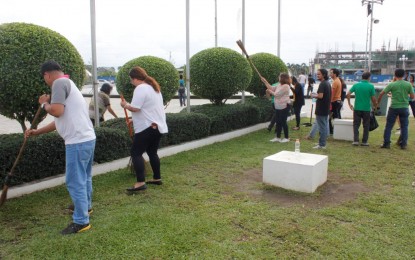 BACOLOD CITY -- In the wake of the declaration of a national dengue epidemic, the city government kicked off its campaign dubbed "Deng-Get Out of Bacolod! Mag 4 O'clock Habit Na!" Wednesday afternoon.
Mayor Evelio Leonardia and Councilor Cindy Rojas led the launch of the "all-out war" against dengue in a ceremony held at the Government Center lobby, which was followed by a cleanup in the city offices and the center grounds.
"We call on the people of Bacolod to clean their surroundings every 4 p.m. They should put away stagnant water where mosquitoes can breed. Before dengue was considered seasonal, but now it has a tendency to become a year-round problem," said Leonardia, who issued Executive Order 23 convening the special committee for the anti-dengue campaign.
The 4 o'clock habit is part of the "4S" strategy advocated by the Department of Health to counter dengue, which means: Search and destroy mosquito breeding places; Self-protection measures; Seek early consultation for fever lasting more than two days; and Say no to indiscriminate fogging.
Records of the City Health Office (CHO) showed that from January 1 to August 17, Bacolod has recorded 1,325 dengue cases, including six deaths. Figures showed an increase of 106 percent increase compared to the cases recorded for the same period last year.
"This is urgent. We should treat the dengue virus seriously. In fact, we should treat it as a matter of life and death," Leonardia said in a meeting with barangay officials before the launching.
Rojas, who chairs the City Council committee on health, urged barangay officials and residents to join the city in the fight against dengue as the government cannot do it alone.
On Wednesday, the cleanup was held simultaneously in the city's 61 barangays, schools, and other government institutions.
Leonardia said the city government also partnered with the Bureau of Fire Protection, Chamber Volunteer Fire Brigade, and Amity Volunteer Fire Brigade for the campaign.
Fire trucks will go around the barangays and sound their sirens every 4 p.m. to remind the residents it is time to observe the "Deng-get out of Bacolod!"
Meanwhile, Dr. Maria Carmela Gensoli, city health officer, said the CHO is using the PHP17.8-million fund allocation for the dengue campaign to purchase medicines, fogging machines, and other supplies.
"We're running out of supply of insecticides and larvicides. Almost everyone is requesting for fogging and spraying and our stocks are depleting,"
Last week, the city government received a donation of 200 pieces of interceptor insecticidal nets from supplier BASF Philippines to boost its anti-dengue campaign. (PNA)