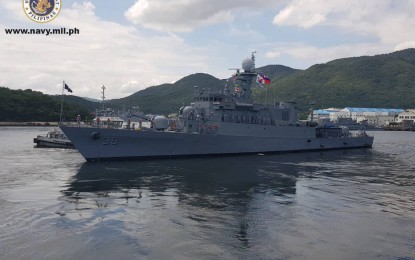 MANILA -- The waters of Palawan and Mindanao are the possible deployment areas for the newly-acquired BRP Conrado Yap (PS-39) Philippine Navy (PN) flag-officer-in-command, Vice Admiral Robert Empedrad said Wednesday.
Empedrad, in a press briefing, said the ship will be subjected first to an engine run test which will take the corvette all over the Philippines, he added.
"What we are going to do is to (first) subject the ship to an engine run test which will take the vessel all over the Philippines, we can order the BRP Conrado Yap to go to Palawan, Cebu, Mindanao and the eastern part of the country, in the Philippine Rise and then back," the PN chief added.
Once the test is completed, Empedrad said the PN leadership will decide on whether the ship will be deployed to Western Command area-of-operations or in the Mindanao area.
The Western Command is headquartered in Puerto Princesa, Palawan and covers the Kalayaan Island Group and parts of the West Philippine Sea.
Empedrad said the BRP Conrado Yap is an ideal ship to deploy in both areas due to its various automated systems, including its weapons, making it very accurate to use against surface threats, including small ones.
The BRP Conrado Yap is the former "Chungju" of the Republic of Korea Navy. Pohang-class corvettes, especially those designated as Flight II, are optimized for anti-submarine warfare missions.
The ship is armed with two 76mm Oto Melara automatic guns, two Oto Breda 40mm light cannons, depth-charge racks, and two triple torpedo tubes and surveillance systems like radar and sonar.
BRP Conrado Yap was formally turned over and commissioned to the PN last August 5 during short ceremonies at Jinhae Naval Base in Changwon City, South Korea.
The corvette and her escort, the BRP Davao Del Sur (LD-602) departed the South Korean facility last August 12 for their voyage home which ended early morning of August 18. (PNA)