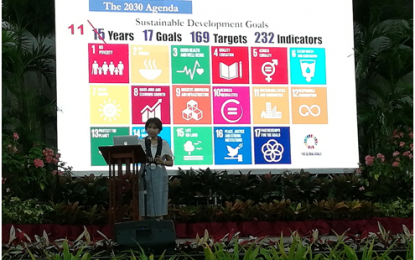 LOS BAŇOS, Laguna -- An official of the National Economic Development Authority (NEDA) on Thursday said technology and research are vital in the country's integrated development plan to meet the 17 Sustainable Development Goals under the United Nations' Agenda 2030.
NEDA Undersecretary Rosemarie Edillon, a speaker during Thursday's opening of the three-day "SyenSaya: the Los Baños Science Festival", said technology and research are needed to ensure the "effective and efficient use of resources and to advocate for change".
Edillon said 169 targets with 232 indicators, including science and technology for sustainable development, are integrated in the Philippine Development Plan's (PDP) "Ambisyon 2040".
"Sustainable development is really about arriving at the interplay of economic, social and environmental dimensions of development, making sure these are balanced," she said.
Sustainable development, she added, means moderating the present economic growth, which necessarily uses up resources, so that the future generation would also have enough.
Edillon said the principle of "leaving no one behind" means "having to content ourselves with fewer wants so that the needs of others can be met", and cited a people-focused and people-centered development plan across all sectors.
She said sustainable consumption and production (SCP) is the most interconnected goal but one of the challenges is lack of funds to support the shift to SCP.
Other challenges include lack of coordination in the implementation and enforcement of relevant laws and issuances and absence of monitoring mechanism on SCP.
Despite the challenges, she said the so-called Circular Economy (CE) could help in crafting development priorities. A CE assessment showed that there was support to the country's economic development targets.
She said CE is crucial to achieve the target solid waste diversion rate of 80 percent by 2022 through municipal solid waste management and recycling; construction or climate-resilient housing and informal settlement upgrades for the country's two million informal settlers;
Food waste avoidance; mobility and vehicle modernization like the e-trains; agro-ecology processing and the reliable and affordable access to energy, among other development and energy plans.
The PDP incorporates investing in science, research and development. Edillon said the country has 11 years to achieve the goals, as espoused by the UN's 5 Ps or "people, prosperity, planet, partnership and peace".
"We want all these innovations in the Board," Edillon said, citing legislative milestones in the field of S&T.
These laws are:
Republic Act (RA) 11293 or the "Philippine Innovation Act", which provides the establishment of the National Innovation Council and adopting a "whole-of-government" approach in steering the direction of science and technology innovations.
RA 11337 or the "Innovative Start-up Act" which created the Philippine Start-Up Development Program, provides monetary and operational support to innovative and technology startups, and;
RA 11363 or the "Philippine Space Act" which spurs more investments in extensive application of space technologies on agribusiness, environmental conservation, national security, urban planning, information and communication, and disaster management. (PNA)