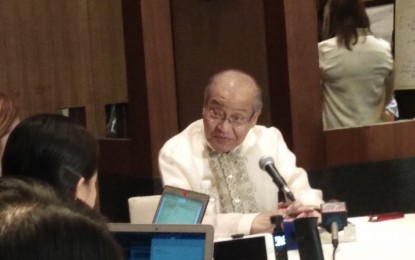 BEIJING -- The Philippine government is acting with urgency in its oil and gas exploration deals with China to secure energy supply in the country for the coming years, Philippine Ambassador to China Jose Santiago Sta. Romana said on Thursday.
"There is a hope that we move forward, because it's very important for the Philippines. The basic issue here, if you look at the big picture, is really one of energy security," Sta. Romana said in a press conference here.
The envoy added that both parties would like to pursue joint exploration in disputed and undisputed areas in the West Philippine Sea and the South China Sea without giving up legal positions on certain issues.
"[I]f you look at the MOU (Memorandum of Understanding), there is a statement there: On the one hand we follow the spirit of the UN Charter, UNCLOS, international law; on the other hand, both sides will proceed without giving up their positions, their legal positions on certain issues," he said.
"So we are trying to find a way within certain parameters to move forward. So far, it will take a lot of flexibility and pragmatism on both sides," he added.
The Philippines and China signed the MOU on oil and gas cooperation in November last year. It served as a roadmap for parties to move forward discussions and possible areas of cooperation.
According to the ambassador, the bilateral meeting of President Rodrigo Duterte and Chinese President Xi Jinping on Thursday evening aims to agree on "general points", a consensus that will "provide the impetus for the working groups on both sides to continue and work on the details" of the joint exploration.
Currently, there is a moratorium on exploration and drilling activities in the West Philippine Sea due to tensions in the disputed waters.
"The plan is to make the framework ready so that the steering committee can start the ball rolling as well as the work groups, and they can start meeting, so that the service contract which have been affected by the moratorium can also proceed," Sta. Romana said.
"Malampaya is running dry. And it's going to affect our power supply. So that's why the President is moving with a sense of urgency to move the process forward especially in his last three years," the envoy said. (PNA)