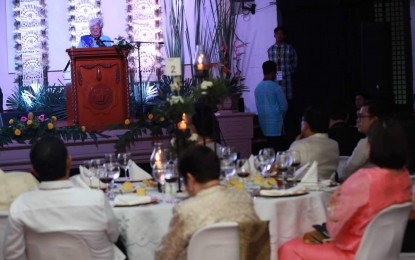 MANILA -- Department of Education (DepEd) Secretary Leonor Magtolis Briones commended the works of the Research Center for Teacher Quality (RCTQ) and underscored its important role as the DepEd pivots from enhancing access to ensuring quality basic education.
"I'm so pleased that there is an institution exclusively focusing on research in education," Briones said during her keynote address during the celebration of the RCTQ partnerships at the Philippine Normal University – Manila on August 29.
RCTQ was established as a result of the partnership between the SiMERR National Research Center at the University of New England (UNE) in Australia and the Philippine Normal University (PNU), the National Center for Teacher Education.
Its vision is to provide evidence-based policy advice for strengthening teacher quality, while its mission is to conduct high-impact applied research directed at strengthening teacher quality.
"We cannot have quality education or quality learners without quality teachers," Briones said.
NEAP transformation, teachers' motivation
Briones extended her gratitude to the RCTQ for its active involvement and advice on DepEd's plan to transform the National Educators' Academy of the Philippines (NEAP).
"We also have to look at the quality of our training institutions which produce our teachers," the Secretary shared, adding that DepEd will also upgrade its research capabilities.
Briones also enjoined the RCTQ to look into the motivation of today's teaching force: "This is a very interesting area of research because motivation propels the quality of work, your attitude towards your students, and so on and so forth."
She also added that such motivation "translates to the quality of teaching, the interest in teaching, and the interest to improve oneself even as one continues teaching."
Role of communication
She said that while policy has to be research-based, communication is also very important.
"How do we communicate the needs of education? How do we communicate the results of our researches, so that our major, number one policymaker — the Congress — will take steps to implement such results of research?" Briones asked.
She congratulated the RCTQ and its partners for their efforts to improve teacher quality in the Philippines.
"It's so wonderful to find out the nature of things, the nature of behavior, the impact of knowledge, and preparing our young learners for a world which will be very different from the world that we have. So we prepare them for change, we prepare them to adjust, and tell them that they have to stay human, and in the case of our learners, they must stay Filipino," she said.
Present in the event were Australian Ambassador to the Philippines Steven Robinson who also delivered a message; Cabinet Secretary Karlo Alexei Nograles who led the celebratory toast to RCTQ partnerships and teacher quality efforts in the Philippines; DepEd Undersecretary Nepomuceno Malaluan; Professor Michael Wilmore of UNE and Dr. Ma. Antoinette Montealegre of PNU who both led the ceremonial signing of the Memorandum of Agreement/Understanding between the two institutions; RCTQ Co-Directors Dr. Gina Gonong and Dr. John Pegg; and officials of PNU, UNE, and RCTQ. (DepEd PR)