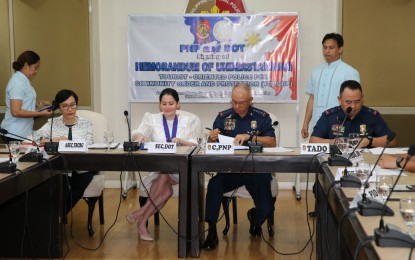 MANILA -- The Philippine National Police (PNP) and Department of Tourism (DOT) on Monday signed a memorandum of understanding (MOU) to further strengthen a partnership that ensures the safety and security of local and foreign tourists through the Tourist-Oriented Police for Community Order and Protection (TOPCOP) program.
PNP chief, Gen. Oscar Albayalde, and Tourism Secretary Bernadette Romulo-Puyat signed the MOU in a simple ceremony held at Camp Crame in Quezon City.
"Amid the threats to security brought by criminals, insurgents, and terrorists, we have maintained peace and order and continue to keep the nation as a safe haven for tourists," Albayalde said during the event.
He said the TOPCOP program through related training and capacity-building in the regional and provincial levels; and establishment of Tourist Police Assistance Desks in Police Station of cities and municipalities identified by DOT as tourist destinations or in the periphery of high-tourism traffic areas.
"Tourist police are now highly trained well equipped and constantly prepared in performing their duties to show that the Philippines is not just a beautiful country but a safe destination for tourists," Albayalde stressed.

"We took another significant step forward in our shared effort to continually seek better ways to serve and protect not only our countrymen but also foreign nationals who come to our country to visit and see the sites and do business," he added.
Puyat, on the other hand, said she is extremely delighted that DoT has signed a partnership with PNP that would put great emphasis on setting the bar for Filipino hospitality.
"We certainly could not do it alone, it is hence encouraging to know the PNP is rallying behind our tourism campaign of making travel around the country more fun, more safe and secure," Puyat said.
"Thank you for willingly sharing this daunting task with us. The PNP's commitment to serve and protect through an equal service to our citizens and foreign travelers alike is laudable," Puyat said in her speech.
She said the initiative was in response to Section 100 of the Tourism Act of 2009 which provides that the PNP shall establish a tourism security force to assist in maintaining peace and order within areas of high tourism traffic.
The TOPCOP program has so far trained around 4,600 tourist police in key tourist destinations nationwide.
As part of the covenant, the PNP built tourist assistance centers in strategic locations all over the country.
"We look up to you to fulfill our mandate of contributing more inclusive impact in the lives of our fellow Filipinos. With your help and with all of you present here we can rest assure that we are not alone in sending a strong message to our visiting tourists that our country will continue and always be a safe destination," Puyat said.
"It's indeed more fun in the Philippines with government agencies like the PNP believing that our country's success is just within arm's reach," she added. (PNA)