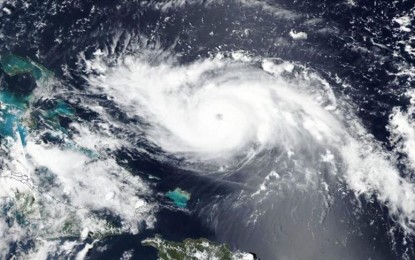 NEW YORK -- At least five deaths have been recorded in the Bahamas due to Hurricane Dorian, Prime Minister Hubert Minnis said at a news conference Monday.
As the storm creeps across the Atlantic Ocean toward the US mainland, it also injured at least 21 people, Minnis said.
"Dorian remains an extremely dangerous storm," Minnis said earlier in the day on Twitter, and added that reports from the northern Bahamas' Abaco Islands, where the storm hit with destructive winds and rainfall, show "the devastation is unprecedented."
The hurricane, with winds speeds of 183 miles per hour (295 kilometers per hour), is one of the most powerful hurricanes ever recorded in the Atlantic Ocean.
Dorian is tied with Hurricane Allen in 1980 as the second-strongest storm recorded in the Atlantic Ocean and is tied for the strongest Atlantic hurricane to hit land.
Dorian is tracking towards the US southeastern state of Florida as a Category 4 hurricane, the National Hurricane Center said but it may not make a direct hit as computer models have it hugging the eastern coast before drifting out to the ocean. (Anadolu)