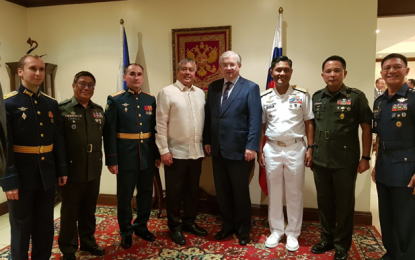 MANILA -- Russia has introduced its first Defense Attaché to the Philippines in over 40 years on Tuesday (Sept. 3), signaling the continued commitment to attaining peace and stability in Asia through enhanced military cooperation with the Philippines.
Russian Ambassador to the Philippines Igor Khovaev introduced Defense Attaché, Col. Dmitry Nikitin to Philippine military officials and the media, saying the event was "quite symbolic and very meaningful."
Philippine Defense Undersecretary Raymundo DV Elefante welcomed the development, saying that he is optimistic about stronger military ties between the Philippines and Russia.
"It will be a very long journey but I think with this relationship and cooperation, I think we will go to have a very good opportunity in terms of cooperation and friendship," he said during the reception of the opening of the Russian Military Attaché Office.
Khovaev, meanwhile, highlighted that Russian-Philippines defense cooperation will serve the interest of peace, stability, and sustainable development in the region.

"Because for the first time, the Philippines and Russia decided to open a new channel of communication between our nations. This decision is in full compliance with the strategic interests of not only the Philippines and Russia but of all regional countries," he said in a speech.
"Because this decision was taken in order to provide, to contribute to strengthening peace and stability in the region," he added.
While Nikitin did not deliver a message, Khovaev said enhanced defense ties are more relevant as terrorism remains a common threat faced by both Russia and the Philippines.
"Simply because it's time for all of us, especially now in the period of increasing global disturbances, to put aside secondary contradictions and differences, and to focus on common struggle against evils and in order to face common challenges of threat. And I strongly believe that the opening of the national defense attaché in Manila will greatly contribute to these joint struggles," Khovaev said.
In May last year, Col. Dennis Pastor was assigned as the Philippines' first Defense Attaché in Moscow.
Earlier reports mentioned that last May 2018, Russian President Vladimir Putin signed an order to send his country's first designated defense attaché to the Philippines, as the 40-year bilateral relations of the two countries have improved since President Rodrigo Duterte assumed office in 2016.
Khovaev said earlier the two countries concluded more documents on bilateral cooperation in different fields than the previous 40 years.
Meanwhile, defense cooperation between Moscow and Manila developed further after the signing of the Agreement on Defense Cooperation and the Agreement on Military-Technical Cooperation in 2017. (PR)