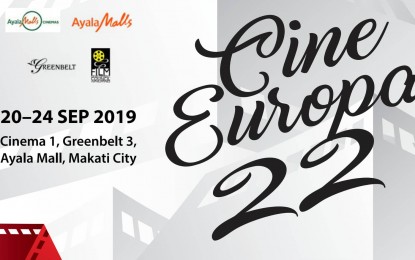 MANILA-- This year's Cine Europa, a film festival featuring European-produced storylines, is screening films centered on friendship and humanity.
EU Delegation Chargé d'Affaires Thomas Wiersing on Thursday said the festival's 22nd edition will capture the values that motivated people "to show compassion, to be altruistic, to hope, to survive, and to promote peace and friendship."
"I have the pleasure of watching 'Quezon's Game', and as a German, I highly recommend this to expats and Filipinos. It is of superb quality and is a very touching narrative of humanity, friendship, and Filipino hospitality. These same core values will coincidentally be reflected in this edition of Cine Europa," he said at the Cine Europa press screening in Greenbelt 3, Makati City.
The 22nd Cine Europa is featuring 12 movies selected by the EU embassies and cultural institutes in Manila that also reflect the bloc's "growing cultural relationship with the Philippines because of our shared values", Wiersing said.
Aside from sharing films to Filipino movie enthusiasts, the envoy said EU wants to enhance its relations with the Philippines through the movie industry.
"I wish that somehow Cine Europa can provide a very good opening for further opportunities to enhance the bilateral relationship," he said.
"It is my aspiration that the relationship in the film industry will go beyond two-way film exchange. I urge filmmakers to see how they can screen more movies commercially in both the EU and the Philippines. Cultural and creative sectors, including the film industry, play a significant role in ensuring the continuing development of societies, strengthening identity and social cohesion and creating jobs and driving inclusive and sustainable growth," he noted.
The films will be shown free of charge in Makati, Bohol, Cebu, Leyte, Naga, Palawan, and Iloilo.
One of the films included is "Cold War" which tells the love story of a couple who meet in the ruins of post-war Poland.
"We are staging the festival in Greenbelt 3, Ayala before we proceed to the provincial legs. Why are we doing this? It is for the simple reason that we want to bring the films closer to the Filipino public. That is also why we keep it free admission," he said. (PNA)