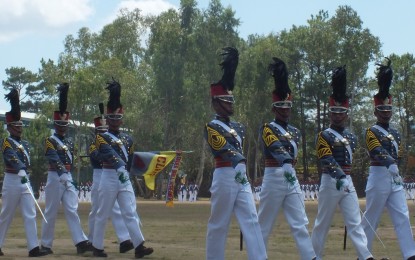 FORT DEL PILAR, Baguio City-- The number of examinees who took the annual entrance examination of the Philippine Military Academy (PMA) on August 25 has breached the 2018 record, reaching 33,000, an officer said on Thursday.
PMA information officer, Maj. Reynan Afan thanked the public's continuous trust in the institution as the number of examinees has surpassed that of last year's 28,000.
"We attribute not just to the people's trust in the PMA but also their trust to the AFP [Armed Forces of the Philippines]. We all know that the AFP has a high rate of approval rating. The youth now also have a strong desire to serve the country," he said.
He said the examinees, aged 17 and those who will turn 22 by June 1, 2020, trooped to the 41 examination centers nationwide.
The AFP is expected to release in the next two to three weeks the top 1,500 passers, Afan said.
The successful applicants will then proceed to the next stage of screening- medical and physical examination at the AFP Medical Center in V. Luna, Quezon City to determine their physical and mental fitness to undergo a four-years rigid military training inside the country's premier military institution.
From 1,500, the top 400 will be chosen to join PMA Class 2024.
Cadets' benefits
Afan said PMA cadets receive benefits and support from the government from the time they wake up in the morning until they close the lights at night.
"They have regular allowances, they are given different pieces of training and state-of-the-art facilities and the opportunity to have a career in serving the Armed Forces of the Philippines," he said.
On the day they take their oath as members of the Cadet Corps Armed Forces of the Philippines (CCAFP), they are already members of the AFP. (PNA)